Southern vietnam daily tours
Southern vietnam daily tours overview
Vietnam classic tours have been intricately designed for those who want to access the best destinations and most iconic sites of the S-shaped country. Our professional guides are always willing to take you to explore the essence of Vietnam and offer the wonderful travel experience within your time in our country.
Whether you are a group of friends, family or single travelers, you will surely have your private tour guide, transportation, and accommodations… Cozy Vietnam Travel cares about your concerns and interests during your Vietnam vacation, understands you want value for your money as well as protection from any hassles during the trip. We deliver for you and will put your concept of Vietnam travel at ease against any price increases. After making your booking with us, simply confirm your booking with a full, per person deposit and you are protected against any land price increases due to currency fluctuations.
At Cozy Vietnam Travel, we are all avid adventurers, constantly seeking out the best ways for you to experience Indochina lands. This category is all about showcasing both Vietnam classic top sights and its magnificent hidden gems; about the plethora of different types of abundant knowledge and tremendous experience in your journey around Vietnam; and about giving you the very best vacation. Cozy Vietnam Travel and the team look forward to welcoming you to Vietnam soon! Browse our ready-made classic itineraries below or contact us to tailor-make your own classic tours in Vietnam.
Southern vietnam daily tours recommendation
The most popular destinations of Southern vietnam daily tours
Join in a Cooking Class in Hoi An
Known as a great area for tailor-made clothes, Hoi An is definitely one of the best cities in the country. The expat population makes the town a place full of various restaurants.join in a cooking class in hoi an classic tours to vietnam. However, the town is more than that. The best thing about this town is the tastiest cuisine of the country, such as fried wontons, cau lao (a type of thick noodle), and white rose shrimp dumplings. Taking a cooking class is ranked as the premier thing to do in this city. Just go for it.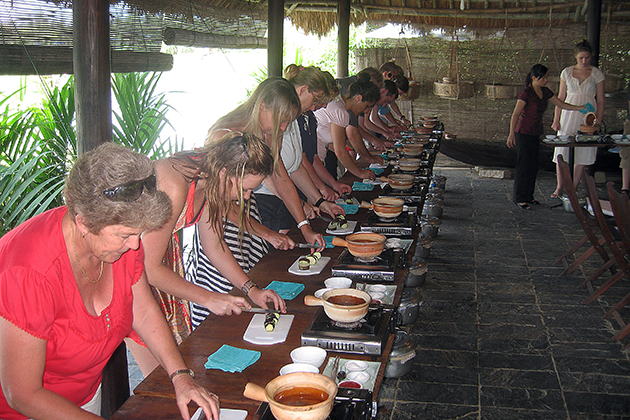 Saigon Vespa Tours & Cu Chi Tunnels
Ho Chi Minh City formerly known as Saigon is one of the most important commercial and tourist centers in Vietnam. Exploring the city from the back seat of a Vespa is an exhilarating way to get a feel for a city with nearly 5 million motorbikes. By that way, you can explore many famous places such as Ho Chi Minh City Notre-Dame, War Remnant Museum, Saigon Opera House, Cho Lon, etc.vespa tours in saigon vietnam classic holidays. Another reason that attracts Westerners travel to Vietnam is to experience and view the remains of the war. The Cu Chi Tunnels are considered to be the most notable and best war-related sites. Just outside Ho Chi Minh City, these tunnels are still tangible with a history of over 40 years. With a length of more than 120 kilometers, these tunnels were first built for fighting the French in 1948. Now visitors can get a glimpse of the underground life led by Viet Cong soldiers.cu chi tunnels in ho chi minh city classic vacation in vietnam.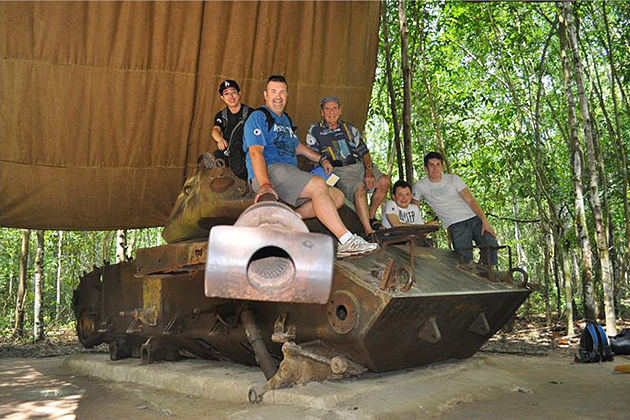 Mekong Delta Boat trip
Floating markets and a boat tour are the most popular things to do when traveling to the Vietnam part of the Mekong Delta. Wake up early and visit the floating market at Cai Rang. It has retained its traditional way of doing business and you will be able to see standing boat rowers there. Taking a boat trip to visit the islets and interesting orchards will give you an amazing feeling. 2-3 days is the ideal time to explore this area. Don't forget to taste the delicious Canh Chua.boat tour in mekong delta vietnam classic tours.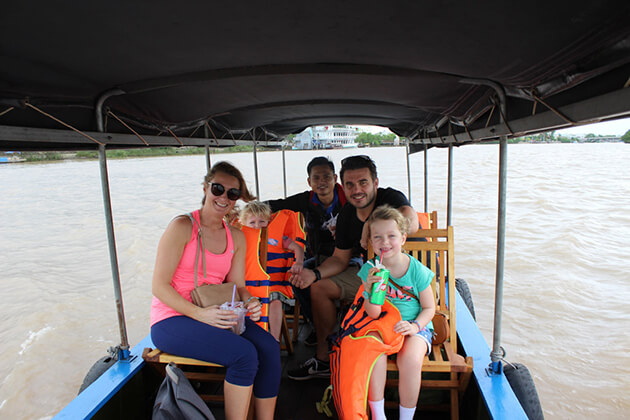 Unwind on the Beach of Phu Quoc Island
Phu Quoc is the biggest island in Vietnam with stunning sandy beaches standing out from many of the beaches in Vietnam. Most Westerners tend to visit the island for its quieter environment and quality beaches. It entices real beach lovers from all over the world with white sands and tropical waters. As well as snorkeling, scuba diving, and fishing, you can even enjoy squid fishing! What more can you ask for? Visiting Duong Dong Market in the morning gives you a feel for the charm of the local culture and its history.relax on the beach of Phu Quoc island during vietnam classic vacation. The island is easy to access by plane from Ho Chi Minh City to Duong Dong Airport on the island. It is big enough to enable you to unwind on the beach for 2 – 3 days.