Nam Du is a magnificent archipelago in the Gulf of Thailand, belongs to Kien Giang province in Mekong Delta containing the big island and 21 small ones. It is a popular destination for many Vietnamese, but remains a mystery for foreigners, as it was once a restricted area for non-Vietnamese visitors. Nam Du Island appeals to its pristine beach, its beautiful little green islets surrounding the main one, its delicious seafood, and interesting excursions. The tourism has not yet been fully developed here so that its original wild beauty is preserved. If you are a traveler looking for wild and pristine nature during your Vietnam vacation, just pack your luggage and head to this beautiful island.
Best Time to Visit Nam Du Island
Like the rest of Vietnam, the weather in Nam Du can be divided into two seasons: a dry season (December to March) and a wet season (April to November).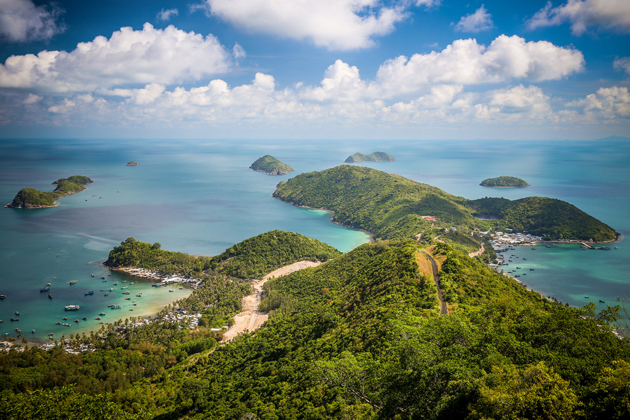 The most ideal time to visit this island is during the dry season, the weather is warmer with the bright sun and the clear sky. The ocean is also calmer so you can travel without worrying about seasick. With such a beautiful weather, you can enjoy many activities. Swim in crystal clear water, relax in the sun on one of the satellite islets, camp on the beach and fall asleep to the sound of ocean waves crashing down the shoreline.
You can still visit Nam Du during the rainy season. However, be prepared for the tropical rain that could prevent you from enjoying all the interesting things this island offers.Boat is the only means of transportation to get to and leave the island, if a big storm is coming, you cannot do anything but cancel your trip.
Best Things to Do & See in Nam Du Island
Although it is a small island, Nam Du offers many exciting activities.
Stroll around Nam Du Islands
As mentioned above, if you leave Nam Du without going from island to island, you will miss a significant part of this archipelago. Every little island has its own attractions. You will find a fishing village on the island of Hon Mau.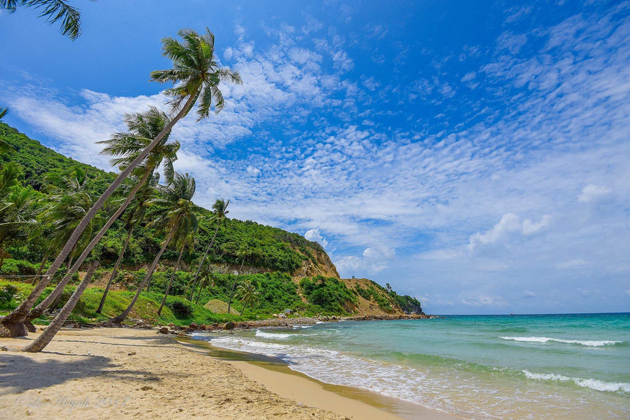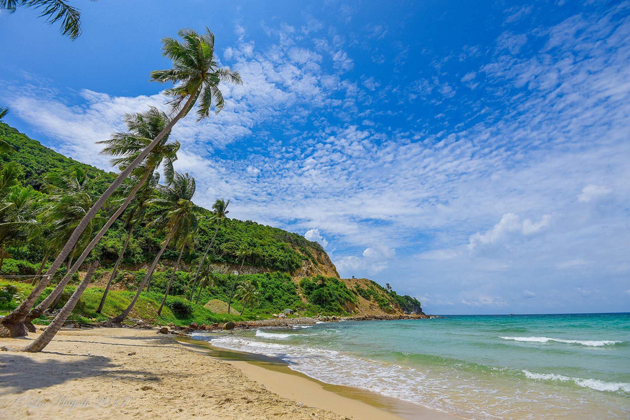 Besides, the island of Hon Son is a new lonely jewel that has not been spoiled by tourism. Hon Ngang Island is a large fishing port, with such clean water that you can see fish in benches below the surface of the ocean.
Explore the Pristine Beaches
It's hard to resist the temptation to dive into the blue ocean of Nam Du. Most of the islands and beaches of Nam Du are suitable for swimming.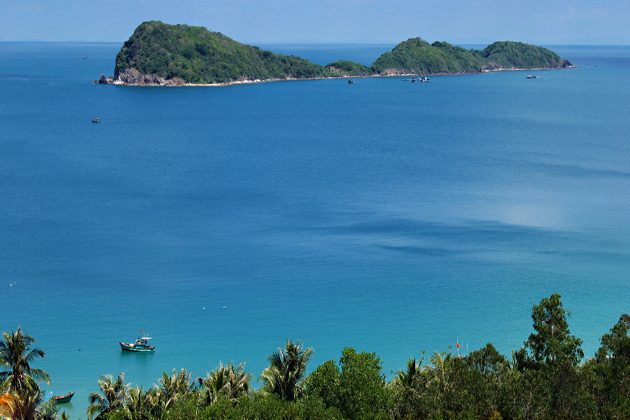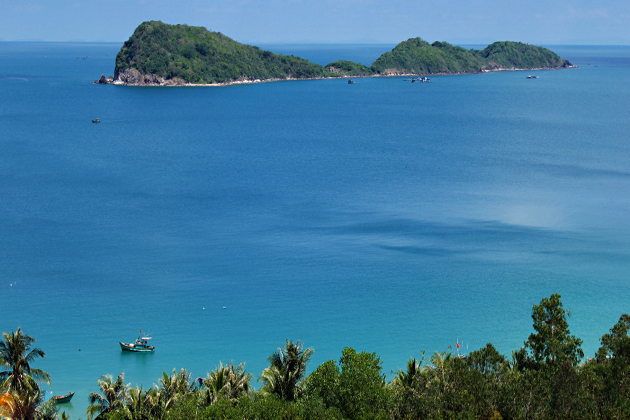 However, as there are not many rescuers working here, one should always pay attention and not swim too far from the beach. Some of the pristine beaches you can visit are Bai Cay Men on the main island, Hon Son Island and Hon Mau Island.
Snorkle in Nam Du Island
It would be a great pity not to dive to Hon Hai Bo Dap, Bai Da Soi and Hon Dau, so be sure to put them in your travel plan. You do not even have to go far off to see the colorful reefs. So, even if you have seasick, you can still participate in this activity. On the other hand, do not jump from your boat to risk injury from the reefs.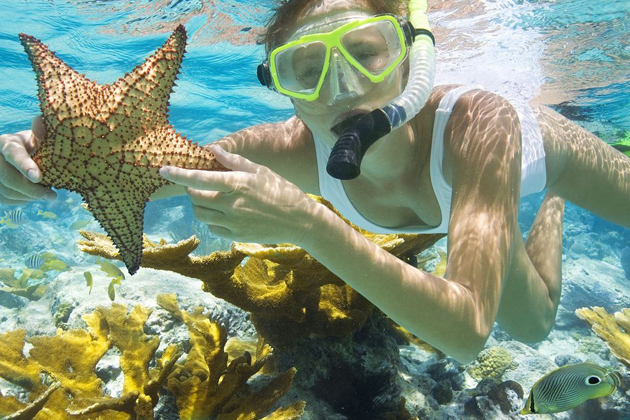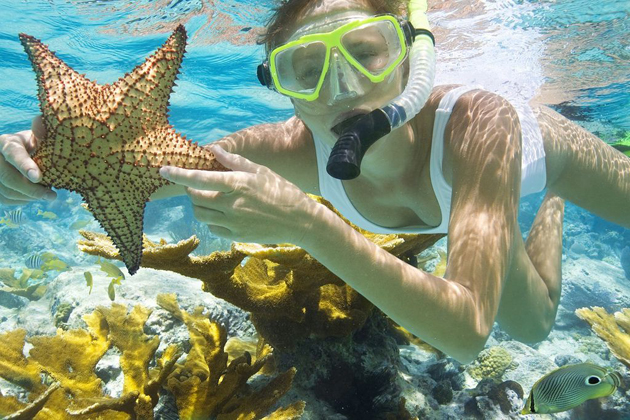 What to Eat in Nam Du Island
When you go to Nam Du, do not miss the seafood here because of their freshness and reasonable price. Whether crab, lobster, sea snail or fish, Nam Du has it all. The island's specialties are oil-grilled echinons, echino porridge, scallops, roasted lamprey, and boiled calamari. Make sure you do not miss it!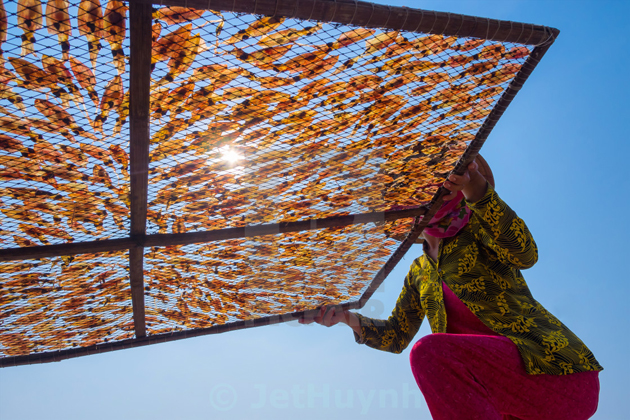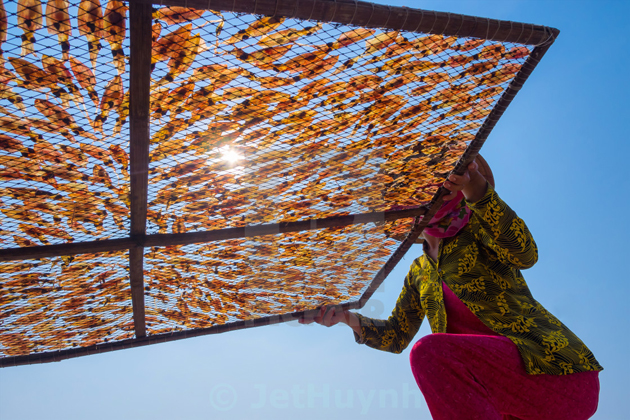 Most food carts are located in the pier area and always welcome you at any time.
Nam Du Island Accommodation
There is not a lot of accommodation options for you. If you expect to stay in a hotel or luxury resort in Nam Du Island, well, you will not find it here. You can find air-conditioned rooms on the island, but also a wifi access to stay connected to your family or your friends. It's no longer an impossible mission for those of you looking for a nice room with sea or mountain views.
There are some new lodging concepts available on Cu Tron Island. You should check the vacancies and book the room at least two weeks in advance as the nice options are selling very fast. Here are some recommendations:
Thao Thuong Camp
This state-of-the-art camp is a new attraction on Cu Tron Island. There are nine bungalows and a dormitory, each with a different vibrant color with beach views, air-conditioners and private toilets. In the common areas next to the beach, the owner has prepared hammocks for you to lie down and read a book or take a nap and dream of being the lord of the island. In addition to accommodation, Thao Thuong Camp offers additional services such as boat rental for a group excursion and motorbike rental for only VND 150,000 / day.
Prices: Twin Room: VND 450,000 / night  and Dormitory Room: VND 160,000 / person / night
Humiso Nam Du Island Resort
The bungalows facing the sea of Humiso Nam Du are a great place to relax and watch the sunset. There are three types of rooms: tiled roof bungalows, leaf roof bungalows, and beehives. All rooms are well-equipped with air-conditioner and Wi-Fi connections. The bungalows also have their own private bathroom while the hives have a shared bathroom. Like Thao Thuong Camp, Humiso Nam Du also offers Nam Du tours and transfers from Rach Gia town.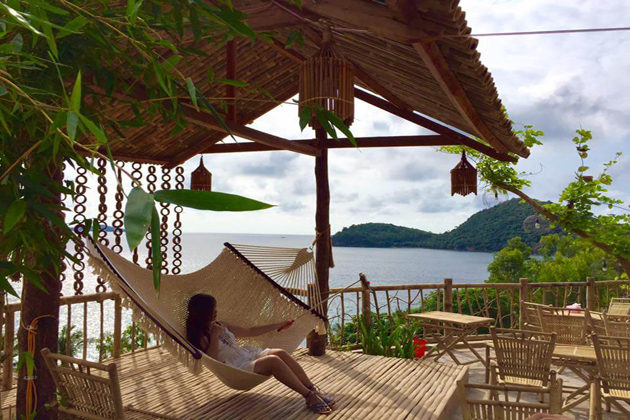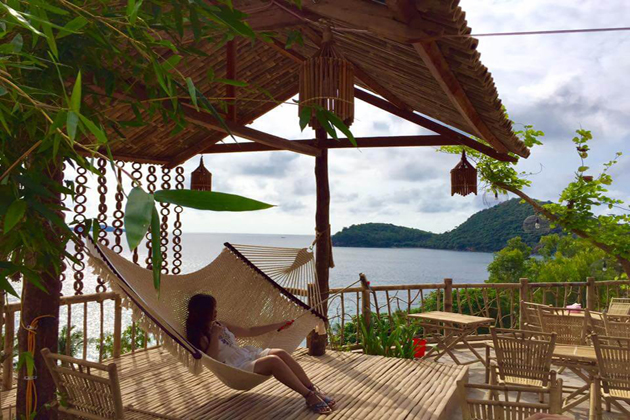 Prices: From VND 400,000 to 500,000.
Bai Soi Beach Homestay
Bai Soi Homestay is located on the island of Cu Doi, isolated in the residential area, which is suitable for applicants seeking a private stay. This homestay offers the best view of the sunrise from your room. They also have diving services to help you discover the beautiful underwater reefs.
Prices: From VND 400,000 to 500,000
How to Get to Nam Du Island
From Ho Chi Minh City to Rach Gia
The only way to get to Nam Du Island is by boat. Therefore, if you want to travel from Ho Chi Minh Cityto Nam Du Island, you will first have to go to Rach Gia City.
By Rented Motorbike
The 220 km ride is easy to ride by motorbike, so you can rent a motorbike in Ho Chi Minh City and experience it in your own way.
With the help of Google Maps, you can easily get from Ho Chi Minh City to Rach Gia without worrying about getting lost because the route is very simple. The trip is about 230 kilometers, which takes about five to six hours. Following Highway 1A, you will pass through Binh Chanh District, Long An Province, Tien Giang Province, My Tho City, Vinh Long Province and Sa Dec City, Dong Thap Province. From there, continue on Highway 80 to get to Vam Cong ferry (it leaves every 20-30 minutes, 24/7). Take the ferry to An Giang province. Leave the ferry then turn left at the first intersection to enter Highway 80. Continue straight for about 30 kilometers to Kien Giang province. The town of Rach Gia is about 40 kilometers from here.
Be aware that Google Maps may guide you on the Trung Luong Highway, which is not available for motorcycles. Make sure you do not choose the fastest route in this case. The motorcycle ride from Ho Chi Minh to Rach Gia will take between five and six hours. So, you should stay overnight in Rach Gia town to recover before heading to Nam Du the next day. Park your bike in the vicinity of the pier. The price fluctuates between VND 10,000 and VND 20,000. Do not lose your parking ticket and keep your key in a safe place unless you want a dramatic experience after the trip. You must also make sure your helmet is secure or bring it with you.
By Private Car
If you go in a group, it is better to rent a private car. A round trip will cost about 3 million VND (for a seven-seater car) and 3.5 million VND (for a 16-seater car).
By Bus
The most popular way to get to Rach Gia is to take a night bus. Sleep on the bus for about six hours and wake up in Rach Gia province. This is what locals usually do to save time. A bus will take you to Rach Gia Pier upon request. A return ticket costs only VND 300,000. The price includes a bottle of water and facial tissues. Here are some trusted brands that you can choose:
Phuong Trang Bus
Address: 272 De Tham, District 1
Hotline: 1900 6067
Kumho Samco
Address: 326 Hong Phong District 10
Tel: +84 283 752 7878
From Rach Gia City to Nam Du Island
Arriving Rach Gia, you will then travel by boat for two hours to Hon Cu Tron (Lon Island), Nam Du. Vietnamese travelers must bring an identity card or driver's license to be able to board. If you are a non-Vietnamese resident, you must present your passport or valid visa to enter the border and the islands.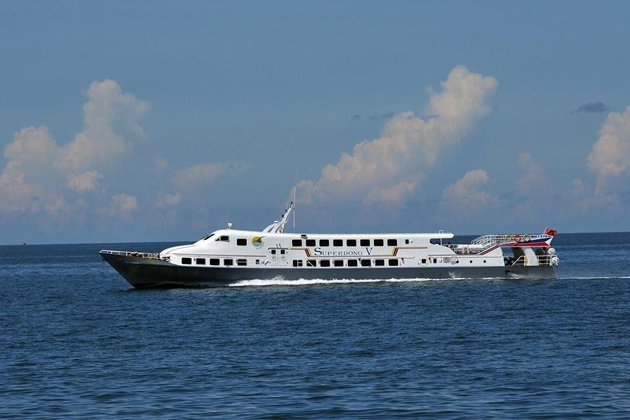 Superdong is a prestigious express boat. Every day, two boats leave for Nam Du at 7:20 am and at 8:40 am and turn back to Rach Gia Pier at 11 am and 11:50 am. Therefore, you must pay attention to the schedule so as not to miss your boat!
Reservation Information
Address: 14 Tu Do, Vinh Thanh District, Rach Gia Town
Tel: (+84 297) 387 7742 One way
Ticket price: VND 210,000/ person
Book your tickets at least a week in advance and bring a cervical pillow if you have one, as it is quite uncomfortable to sit on the boat.
Traveling in & around Nam Du Island
Motorcycles and small boats are the two means of transport available for traveling to Nam Du. There is a bike option but you will have to find a place to rent bikes in Kien Giang, then bring it to Nam Du with you. In total, this process is more difficult and requires many steps.
Motorbike: Hon Cu Tron, the main island of Nam Du, covers about 771 hectares, which takes only 15 to 20 minutes by car. You can rent motorcycles to travel on the main island (Hon Cu Tron). The price is about VND 100,000 – 200,000 per day.
Boat: Island boat tour is one of Nam Du's main activities. Just like motorcycles, you can rent a boat or go to a private operator located near the pier to benefit from this service.