Night markets are among the ideal destinations in Vietnam for tourists who want to experience the daily lives of the locals. Exotic, vibrant, bustling and modern… are some of the feelings you can expect when joining a night market in Vietnam. If you are looking for a fancy night out without bars or cafes, these ones will bring out our urban culture with colorful stalls and great delicacies livening up the city's scene. Night markets are also the most ideal place for tourist to buy souvenirs or gifts during a Vietnam vacation.
Now it's time to take a look through the most popular night markets from North to South to discover the lively and unique culture of the Vietnamese. Shopping happily!
Hanoi Weekend Night Market
Located on the northern edge of the Old Quarter, Hanoi Weekend Night Market is – like its name – opened every weekend from Friday to Sunday between 6 p.m and 11 p.m. The market stretches from Hang Dao Street to Dong Xuan Market, which creates a long walking road of nearly 3 kilometers. Please notice that these streets are blocked off to motor traffic to keep the night market in the largest space. Hanoi Weekend Night Market is mainly made up of vendors selling under a line of tents set up in the center of the street. Also, stores are opened on the opposite side, selling their stuff and making a very bustling scene. On special occasions, visitors can easily catch traditional Vietnamese music performances such as Cheo, Ca Tru, Hat Xam, Quan Ho… The market is highly recommended for those looking to pick up souvenir since the market is selling all kinds of items meeting the customers' purposes.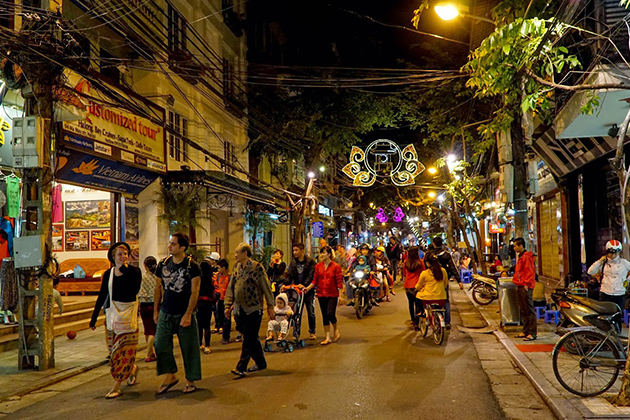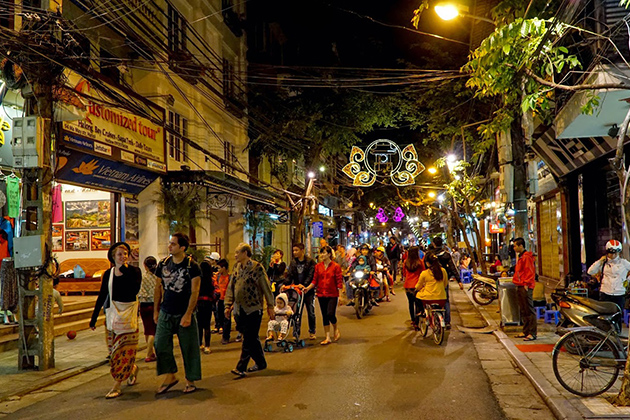 Quang Ba Night Flower Market
The largest night flower night market in Vietnam – Quang Ba market is opened daily from midnight to 3 a.m or 4 a.m and from the early morning until midnight during the special time before Tet holiday. The flower night market is a very well-known destination for tourists due to its colorful scene and fresh atmosphere. Quang Ba flower night market brings out another graceful lifestyle in Vietnam, who are friendly and treasure the beauty of nature. The market is a must-visit when you are in Hanoi and do not forget to carry your camera.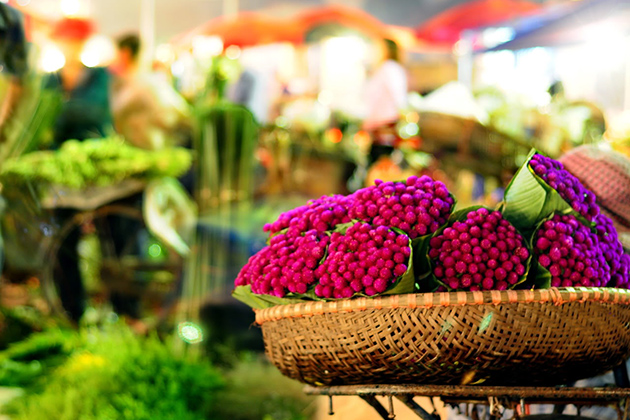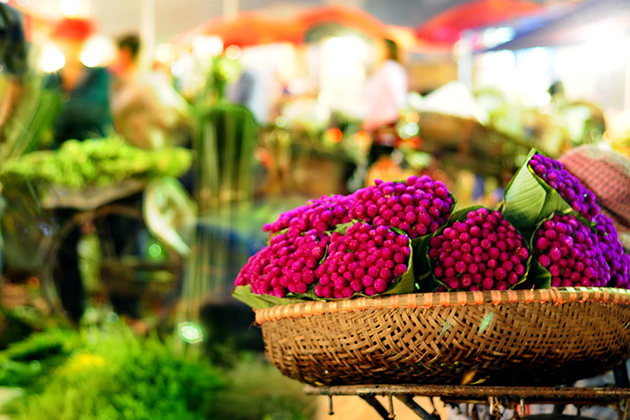 Ha Long Night Market
Listed as one of top best 10 destinations in Vietnam, Ha Long is famous for the stunning bay with magical scenery. Beside a cruise trip through thousands of limestone and overnight on a junk boat, the city is worth visiting its night market which is located near Bai Chay Beach. The night market in Ha Long offers a wide range of wooden products, bags, purses, accessories, crafts and locally made clothes. Seven days a week from 6 p.m to midnight, people sell street foods and play traditional musical performances.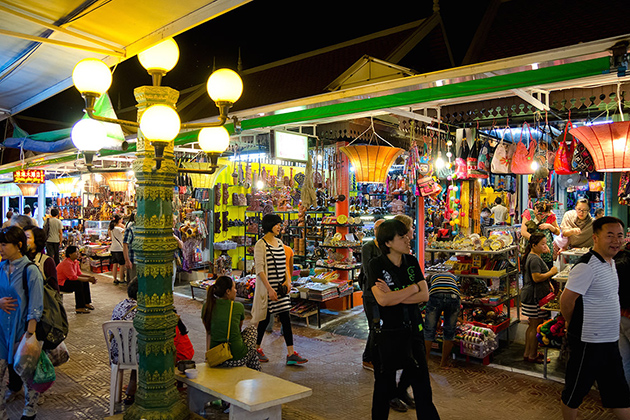 Hoi An Night Market
The stars come out and another beautiful Hoi An appears. The evening is a special time in Hoi An when all lanterns are lit up. Tourists can across the bridge over Hoi An island where a night market is opened and set up selling everything involving silk lanterns or beaded necklaces. People from everywhere dream to explore the night market in Hoi An since it is one of the most beautiful ones in Vietnam. It also worth remembering to settle for a price to ensure that both of you and sellers are going to be happy with.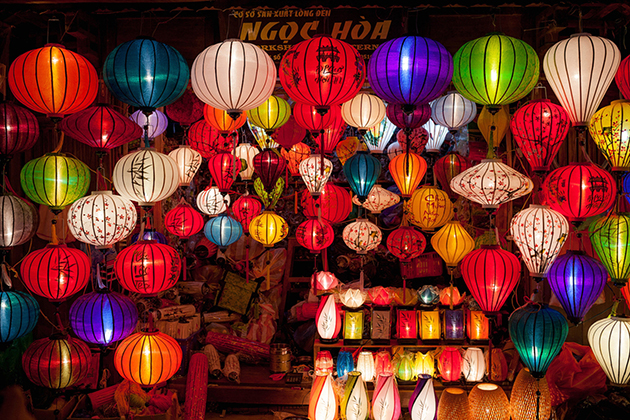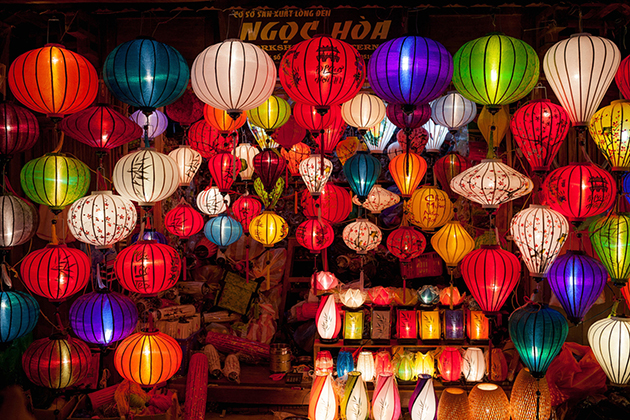 Am Phu Night Market
Once you get to Da Lat, never miss a chance to discover a famous venue in the city downtown with a unique name – Cho Am Phu (Hades Market). The market was named after the fact that in the past, there was no lightning system in this area and locals had to do the things in the dark night. In spite of its horror name, Am Phu Night Market is quite prosperous and brings an extremely bustling atmosphere. Local products are offered from 5 p.m onwards but not too many goods for sale except for food. Travelers can easily recognize the market with the mixed delicious smell of food vaporizing in the air from a very far distance. Also, you should try Banh Trang Nuong (or grilled rice paper cake), which is popular with young people and foreigners.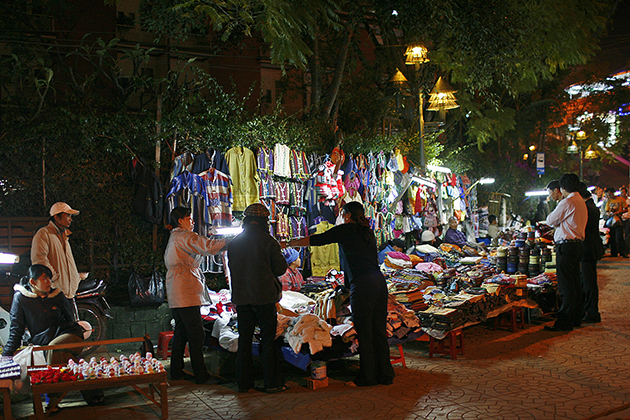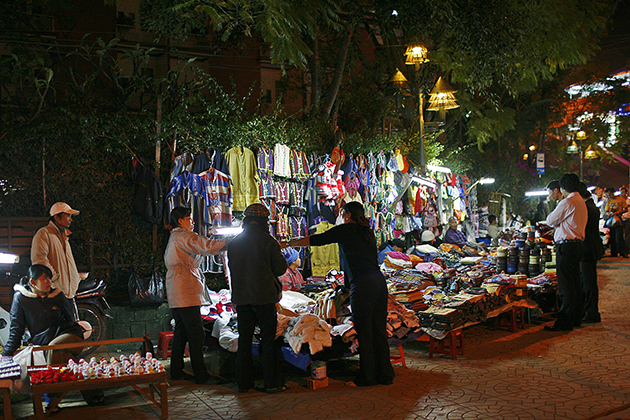 Ben Thanh Night Market
Within 20 – 30 minute drive from the center of Ho Chi Minh City, Ben Thanh market is opened from early morning until midnight but offer an authentic glimpse into the real night market. One of the best things in Ben Thanh is that visitors can directly watch the chef cooking in front of the customers. You can take in every tasty smell and sound, allowing you to enjoy the food with all your senses. Though the shopping in Ben Thanh is limited to souvenirs, there is a wide choice of food and a great atmosphere. It never goes wrong to order grilled seafood or barbecue pork, so enjoy yourselves.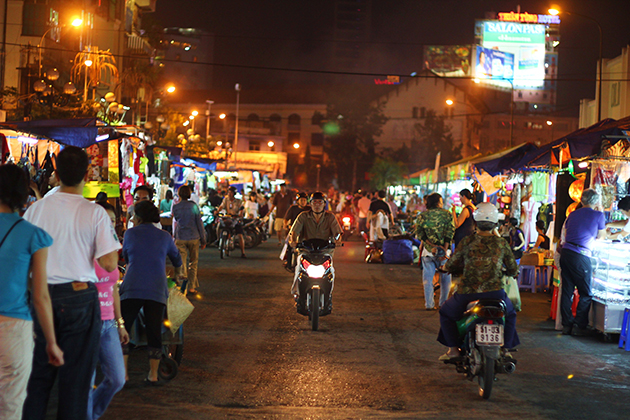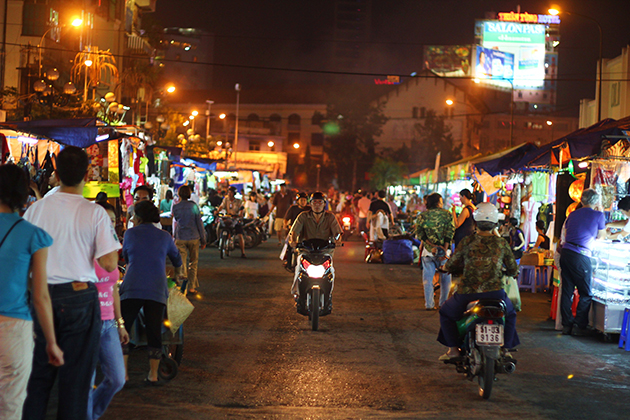 Phu Quoc Night Market
Be 100 meters away from Dinh Cau (Cau Temple), the market was named after the temple which is situated on a stone at the edge of the beach. Dinh Cau Night Market is opened daily from 5 p.m to midnight and nowadays become a cultural feature of Phu Quoc. It appeals to a large number of travelers because of its delicacies as well as wide array of fresh seafood with an eye-catching display. Also, the night market offers the variety of handicrafts, chains, bracelets, rings… made from pearls or natural stones found on Phu Quoc. Prices of souvenirs in Phu Quoc are not listed but don't worry, visitors can have fun bargaining a good price with sellers.