As the gateway to the Dong Van Karst Plateau, Quan Ba is a scenic district in northern Ha Giang province with spectacular mountains, poetic valleys, winding roads as well as the unique local culture. Check out our article to understand more about this magic land as well as have a great Vietnam vacation. Enjoy reading!
Quan Ba Attractions
There is a ton of majestic sites waiting for you to explore in Quan Ba such as the Quan Ba Heaven Gate, the Can Ty walls, Kho My cave, and Thach Son Than mountain. Coming to Ha Giang you cannot ignore Twin Mountain which is a beautiful symbols of the Dong Van highland with stunning natural and tectonic beauty. Quan Ba guarantees you a wonderful trip full of interesting surprises.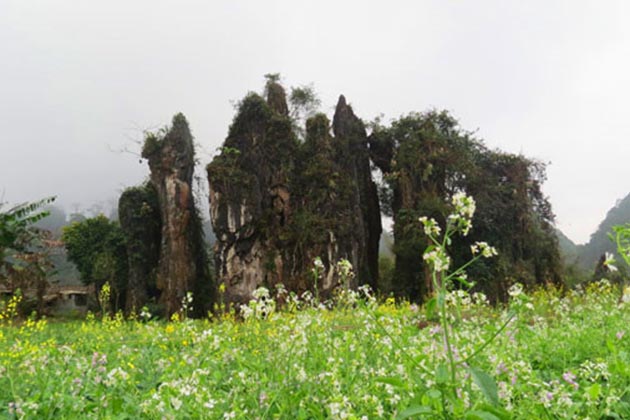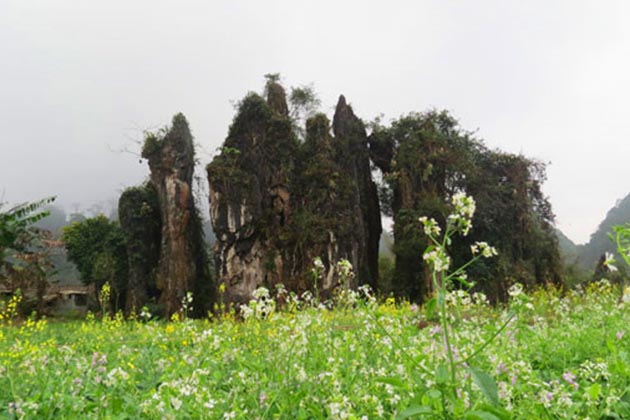 Quan Ba Twin Mountain
Located along Highway 4C, it is far about 40 kilometers from Ha Giang town, belongs to Quan Ba district, Ha Giang province, Twin Mountain is the most impressive highlight of this land. It associates with a touching legend. Once upon a time, in this area, there was a handsome H'Mong man who has talent blowing "dan moi" (mouth organ). The sound of his mouth organ is so beautiful that taking the heart and the soul of a fairy in the heaven named "Hoa Dao". She tried to find the way to come the earth and fell in love with him. They lived happily together and had a cute boy, which made Ngoc Hoang (the King of heaven) angry. She was forced to turn back the heaven. Although, she begged to have custody of baby boy, she could not make it. Did not have any choice, she had left her breast to her son. According to the legend, later, her breast turned into twin mountain of Co Tien Mountain. Locals believed that the milk from her breast creates the cool climate, fruits and vegetable has delicious flavors. Tears of her turned into Mien River, embracing the silvers of land behind the legendary gate.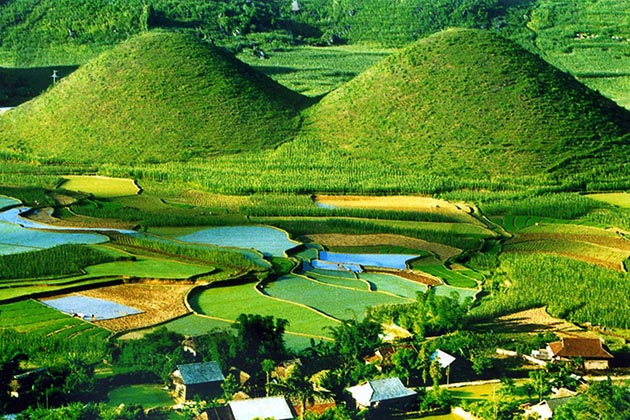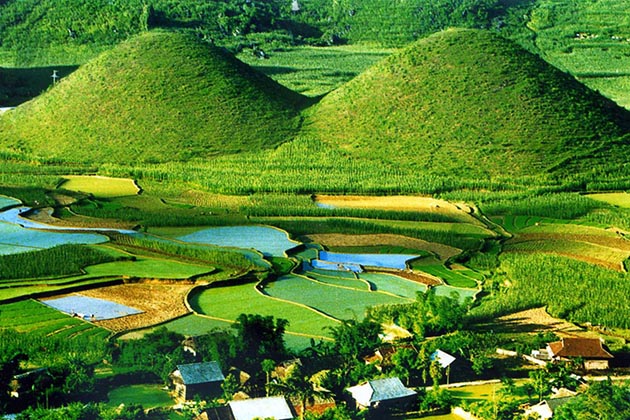 Quan Ba Heaven Gate
Located about 50 km north of Ha Giang, Quan Ba heaven gate is the gateway to the Dong Van geological park. To reach the Heaven Gate, you have to climb up a few dozen more steps to the highest peak which is the most ideal place to get a panoramic view of the Dong Van plateau, looking backwards downhill and the zigzag road weaving between clouds and mountains.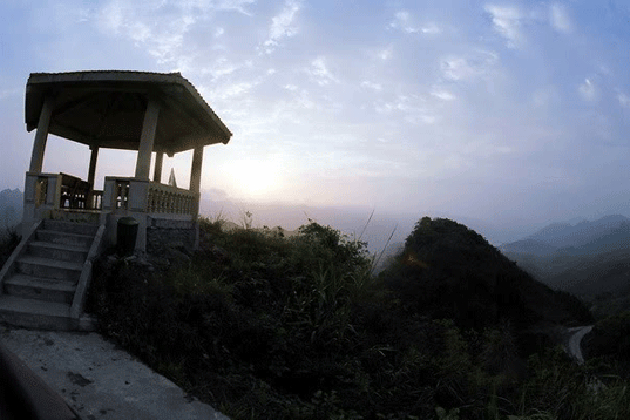 Market in Quyet Tien Commune
If you come to Ha Giang on Saturday, you will have an opportunity to soak up in the bustling market in Quyet Tien commune. All cultural life seems to be converging all here. The feeling of losing yourself in a small space, strange and very surprised. You will find many unique products sold in all corners of the market. Pick up some of them as souvenirs for your family members and friends.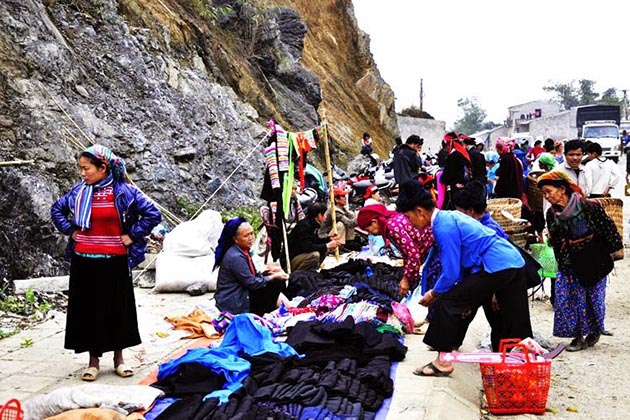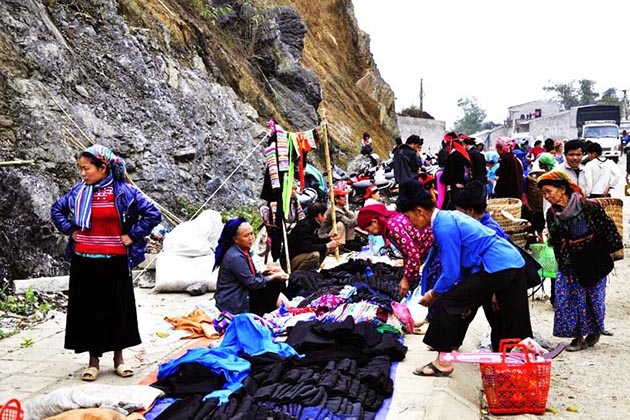 Kho My Cave, Tung Vai Commune
Kho My Cave is located in a convenient location with asphalt road to the cave entrance and only 20km from the center of Tam Son Town. Kho My Cave has a majestic landscape, with a romantic, mysterious shade. Step into the cave anyone can not be surprised by the beauty of nature. Surrounding Kho My cave is a very rich forest ecosystem, the mountainside is the foot terraced fields as silk soft, curved, with roofs hidden in the mist. Visitors will absolutely be mesmerized when admiring the beauty of this site.
Some other tourist attractions in Quan Ba
Nam Dam Village
Nam Dam is a charming village nestled peacefully in a valley surrounded by karst mountains, holds inside it preserved traditional customs, habits and culture from ancient times which is appealing to tourists. Visit Nam Dam, you can enjoy staying at a cozy homestay with the local family in their traditional houses and enjoy delicious meals including local dishes and specialties prepared by the host from the fire kitchen. If you are lucky, you can attend some colorful festival in this village to understand more about local culture.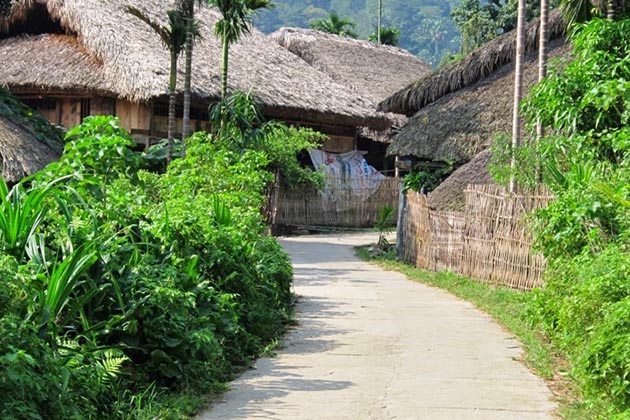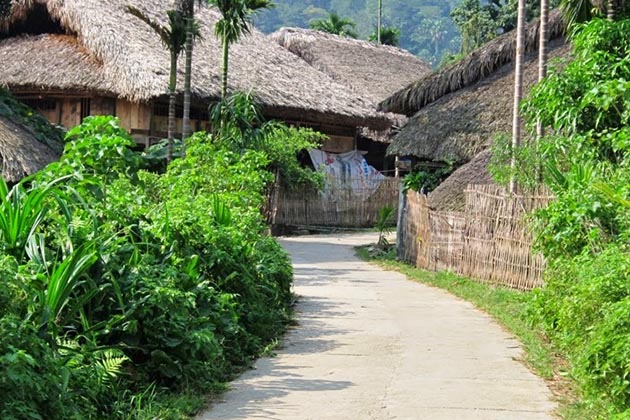 Cultural Village of Dao ethnic minority in Truc Son
It is an ancient village of Dao ethnic group. Come to Truc Son, you can appreciate the ancient architecture, feel the culinary culture, life and hospitality of the people here.
Can Ty village
Located on the gentle river Mien, Can Ty village has the gate – one of the hallmarks of the resistance war against France. Visit this serene village, you can know more about the traditional linen weaving of local people.
Hop Tien traditional textile cooperative, Lung Tam commune
This place is well-known for the long-standing traditional craft of brocade weaving, that not only brings income to hundreds of local families, but also contributes to preserving the traditional culture of the Mong ethnic people living in this mountainous area.
Thai An commune
Thai An commune has Thai An hydroelectric reservoir, Ba Tien mountain with many beautiful pristine caves, at the foot of the mountain.
Best Time to visit Quan Ba
You can visit Quan Ba, Ha Giang at any time of the year because on each season this land has different beauty. However, if you want to admire the beauty of buckwheat, you should take your Ha Giang tours during the time from October to December.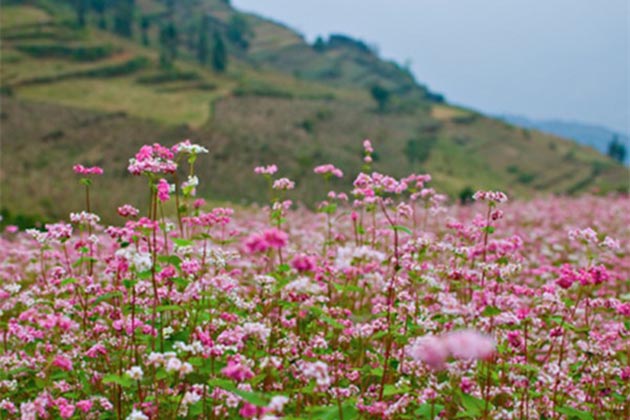 Accommodations in Quan Ba, Ha Giang
Here is a list of motels, hotels in Quan Ba we want to share with you
–              Tam Son Guest House
Phone: (0219) 3384654
Address: Group 1 – Tam Son town, Quan Ba district
–              Hotel 567
Phone: (0219) 3846129
Address: Group 3 – Tam Son town, Quan Ba district
–              Mountain Lodge
Phone: (0219) 6510789 – 0972853678
Address: Group 1 – Tam Son town, Quan Ba district
–              Anh Tuan Hostel
Phone: (0219) 3847189 – 0989 968599
Address: Group 3, Tam Son Town, Quan Ba District
–              Duc Thien Hostel
Phone: 0976 077784
Address: Group 1 – Tam Son town, Quan Ba district
–              Binh Minh Hostel
Phone: (0219) 3874289
Address: Group 3 – Tam Son town, Quan Ba district
–              Cao Quyen Hostel
Phone: (0219) 384645