The great Mekong River, before flowing into the sea, has created one of the richest lands in Vietnam called Mekong Delta. It is known as not only the amazing images of immense paddy fields and fruit gardens but also the unique lifestyle, interesting activities, and attractive local specialties. This peaceful and natural landscape is absolutely the ideal place for you to explore on your Vietnam vacation.
Browse our recommended things to do and see in Mekong Delta, Vietnam for some inspiration before your trip.
Experience the Floating Life of Mekong Delta
Floating Markets
Life in Mekong Delta has a close relationship with water and so do the floating markets. A lot of rafts, boats, and ferries with diverse sizes gather here and used as stores as well as means of transportation. The advertisement in floating markets is simple but very creative and lively. Vendors hang their samples of what they sell on the top of a long pole which is easy to be recognized by customers. Like normal markets, everything from fresh fishery products, ripe tropical fruits, fancy clothes to food stalls or even coffee shops are always available. What you would do at floating markets is hiring a sampan and going around the market, stopping at any floating stores to buy anything then paddling away. Your Mekong Delta tours missing floating markets will be a great mistake.
Cai Be market (Can Tho province) and Cai Rang market (Tien Giang province) are two of the most vibrant floating markets in the region.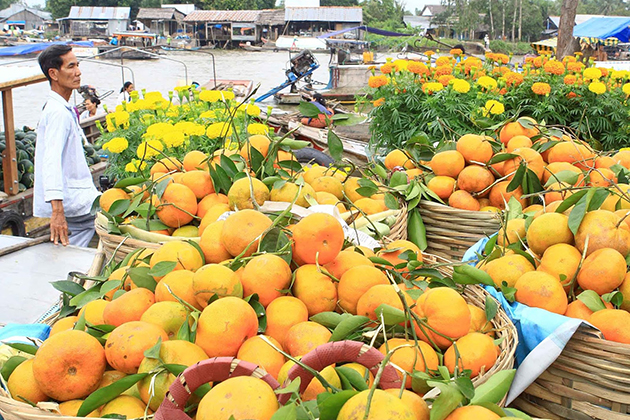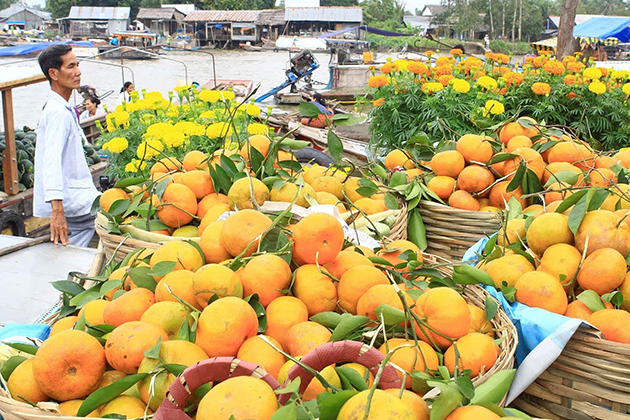 Downstream the Canals
Traveling on the water give tourists the totally different feelings compared to doing on road. To explore Mekong Delta at its best, river cruise and sampan rowing are the popular choices. They will take you through lush orchards, yellow rice paddies and lines of coconut trees casting the shadows on the water surface. Wearing a conical hat to avoid the blazing sunshine of the equatorial area and enjoying cool coconut water will make your travel much more relaxing. Getting near the coast is the region of pristine mangrove forests including a lot of trees and animals which you may have never seen before. Half of a day with the natural exploration will leave you astonishing memories.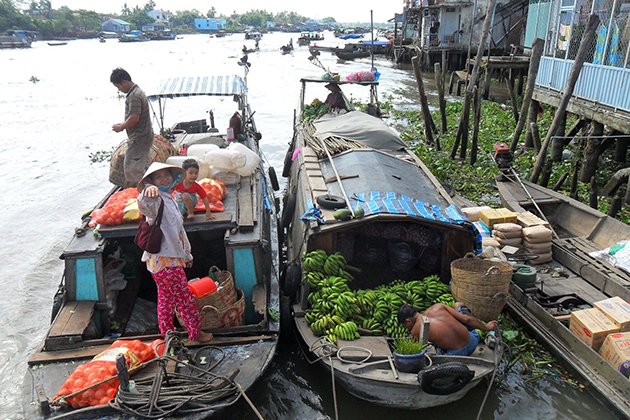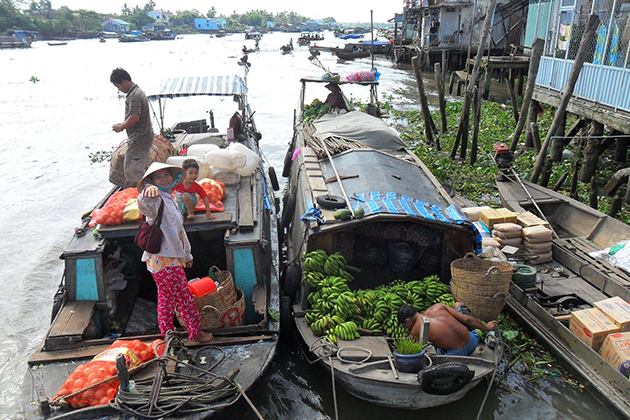 Enjoy specialties in Mekong Delta
It is such a difficult challenge to eat all the delicacies in this region because there are too many specialties. The consolidation of traditional processes, spices from nature and fresh materials creates attractive dishes which cannot be resisted by diners. Here are the suggestions for a day of specialties.
Banh Canh Ca Loc (A soup of thick noodle and snakehead fish)
This noodle soup is the mixture of thick noodle made from rice flour and tapioca flour, snakehead fish caught from Mekong River, soup cooked from its bones and special spices. A hot bowl of banh canh ca loc for breakfast will be the wonderful beginning of your energetic day.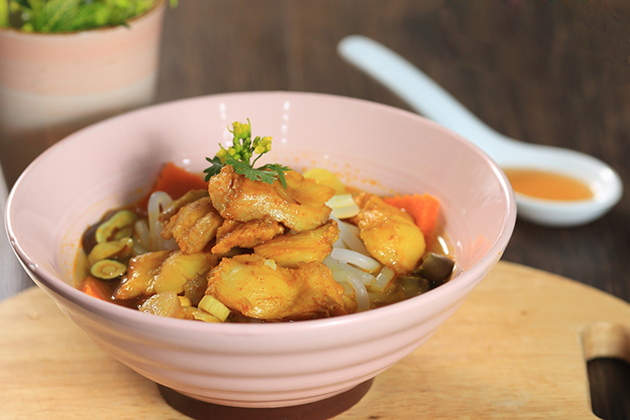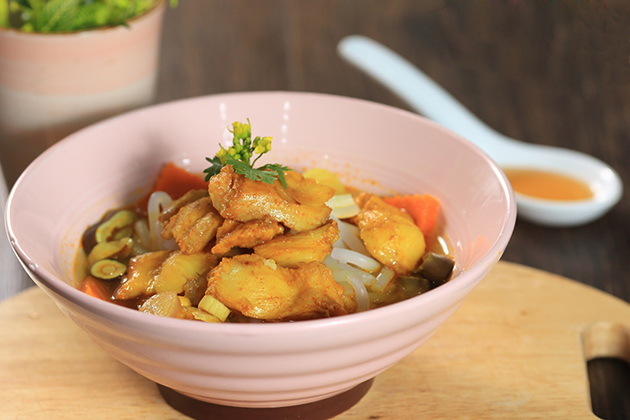 Mud Roasted Chicken
This unique dish will be your perfect lunch. Roasted chicken is quite familiar to most of the tourists but have you ever tasted this food cooked without pot or gas? Mud roasted chicken will bring you definitely new experiences. Processed chicken is covered with lotus leaf and then a layer of mud taken from the rice paddy. The mud must be carefully selected which is not too wet or dry. Then the chicken will be put inside a thick layer of straw. Burn the straw and wait for about one hour. When the chicken is cooked, remove the mud and leaf layers then your dish is ready to taste. It will be better to eat this with the mixture of salt, chili, pepper and some drops of lemon. You will never forget the awesome taste of mud roasted chicken for sure.
Banh Xeo (Vietnamese pancake)
Mekong Delta has been exactly the home of banh xeo, one of the must-try foods in the world. Taste banh xeo in the afternoon to fulfill your stomach is the best selection. This cake includes two parts. Batter is made from a liquid of flour, water, turmeric powder, coconut milk and spices while filling is a cooked mixture of pork, shrimp, bean sprouts, green onions, and spices. The batter is poured on a very hot pan, and then the filling is put inside. Eat this food with dipping sauce and enjoy the crispiness of this delicious yellow pancake.
Lau Mam (Hotpot with salted fish)
Mud carp fish and snakeskin gourami fish are cooked with coconut water to make a tasty hot pot. Then meatballs, squids, shrimps and different types of vegetables are added to the pot during the meal. After a day full of activities, everyone gathers on a boat, around the hot pot for a late dinner; enjoys the meal together with the peaceful moments. What a terrific day of cuisine!
Other recommendations are Hu tieu Sa Dec (Sa Dec noodle soup), Chao ca loc (Snakehead fish rice porridge), Banh pia (Durian cake), etc.
Marvelous Destinations in Mekong Delta
Tram Chim National Park
Thanks to advantage natural condition, Mekong Delta is considered as the paradise of different kinds of tropical floras and faunas, especially birds. Pay a visit to Tram Chim National Park will be worthwhile for tourists who love nature and taking photos of animals and plants. Most of the national park is under the water so the convenient means of transportation is sampan which can reach every corner of the jungles. Prepare a good camera and have yourself an excellent photo collection.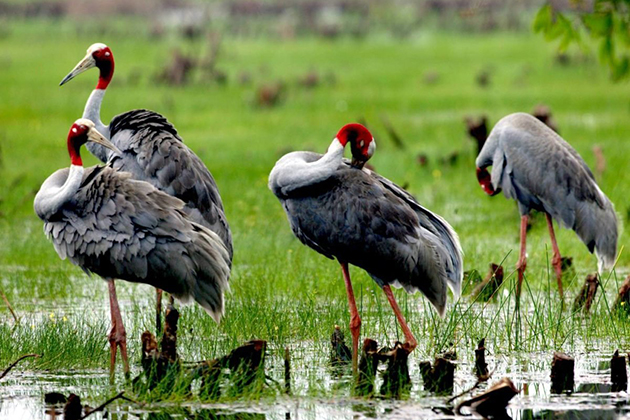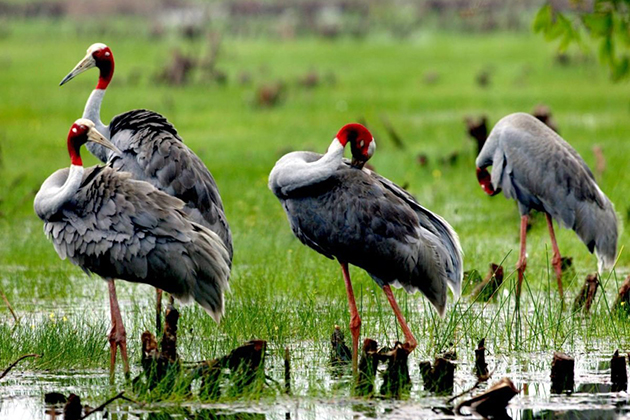 Vinh Trang Pagoda
The pagoda, located in Tien Giang province, was built in 19th century in an area of about 2000m2. The elaborate and stately construction is the melting pot of Western style and Eastern style coming from China, Vietnam, and Kmer. The building also features many Buddha statues, a charming ornate gate built by Hue craftsmen together with mosaic décor of broken pottery, and complexly detailed woodwork. Vinh Trang pagoda, one of the representatives for the long-established Buddhism in Vietnam, should be explored if you have a chance to travel to Mekong Delta.
Cai Be Orchard
70% of fruits throughout Vietnam are provided by Mekong Delta and Cai Be orchard is the largest one in this region. Variety of tropical fruits such as apple, dragon fruit, mango, grape, etc can be easily found here. Joining in a fruit buffet by going around Cai Be orchard, picking ripe fruits from the trees and enjoying them immediately will make you see that nowhere has sweeter and fresher fruits than Mekong Delta does.