As an important part of the local culture in Indochina, the Night Market is a special event that brings tasty traditional food and snacks, colorful handicrafts as well as non-stop entertainment altogether. Therefore, when planning Indochina tour packages you should never miss a chance to witness the place in a different view from the night market.
Vibrant Night Markets in Vietnam
Hanoi Old Quarter Night Market
Held every weekend from Friday to Sunday at Hanoi Old Quarter, this night market is a busy and bustling gathering of roadside stalls and local food vendors that attracts a huge crowd of locals and tourists. The market starts from 6 p.m beginning with Hang Dao Street and running north to the edge of Dong Xuan Market. Only with $1 to $2 visitors can find plenty of yummy Hanoi dishes while going around the crowded night market such as banh mi (Vietnamese sand witch), bun cha (rice noodles served with grilled bacon) and to he (colorful eatable tiny puppets)… There are also variety showcases of traditional performances where people play cultural Vietnamese music as well as classical tunes. However, travelers should keep an eye on the throng motorbikes since sometimes people can be intense.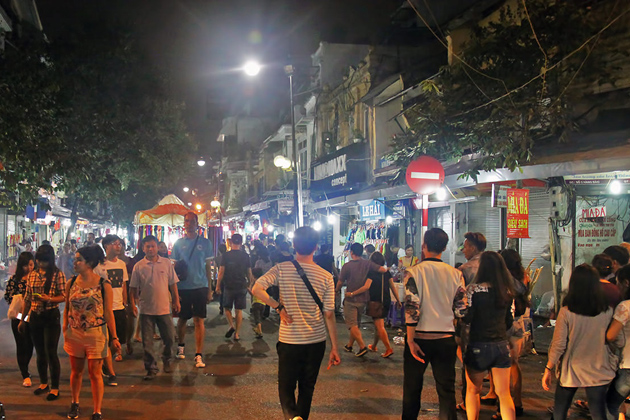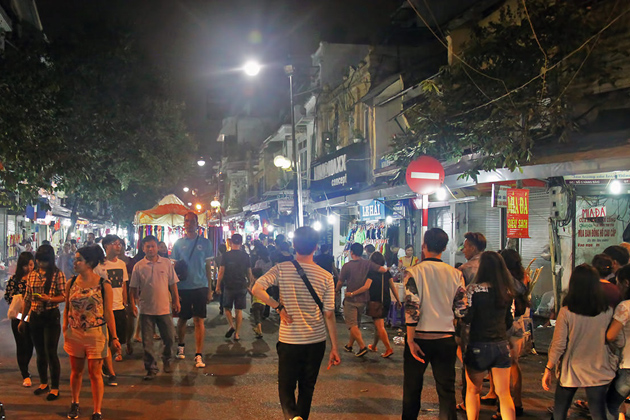 Bac Ha Night Market
Opened since March 2015, the night market in Bac Ha District, which is located in the northern mountainous province of Lao Cai, is held every Saturday night. This is a unique cultural aspect of ethnic people there. Bac Ha night market sells all kinds of hill tribe's goods including grilled dishes and corn wine features with free dance and music performances reflecting the unique culture of Tay, Nung and H'mong ethnic groups such as flute and dancing with umbrellas and hand fans.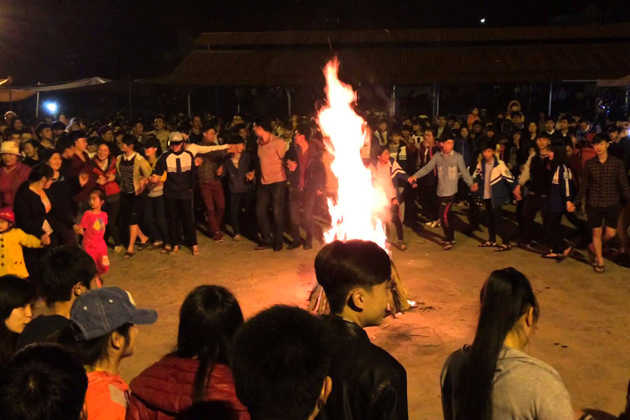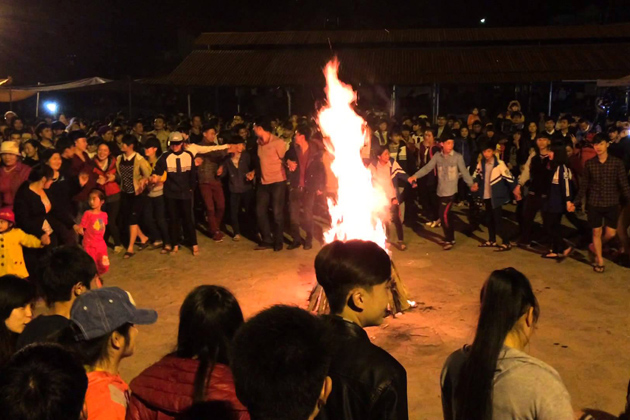 When dropping by the Saturday night market, visitors should try at least one time Thang Co, a special dish of the Mong people cooked from horse meat. Locals usually have Thang Co with home-brewed corn wine, they talk together while waiting for the dish to get ready. Also, Bac Ha night market shows off and sells the particular handicrafts made by ethnic minorities like woven silk, handmade jewelry and traditional costume of Vietnam involving the Kinh's and other ethnic locals 'clothing. Therefore, the market is an ideal place for tourist to choose and bring some nice gifts when discovering around Vietnam
Dinh Cau Night Market
Dinh Cau night market is a must-visit for travelers on Phu Quoc Island, offering variations of dining and shopping opportunities until late. Phu Quoc market caters mainly to tourists but always bustling with many people consisting of locals. Dinh Cau has about 100 stalls, more than half of which sell fresh food, street snacks, and beverages at affordable prices. When you travel to Phu Quoc, one of the top 10 most attractive destinations of Vietnam, do not reject trying many delicious dishes here including seafood, street food, traditional draft beer and souvenirs for tourists. Rain or shine, the market is opened daily from 5 p.m until midnight, so do not worry about your Phu Quoc day trips, you always have chance to taste all great things in this island city.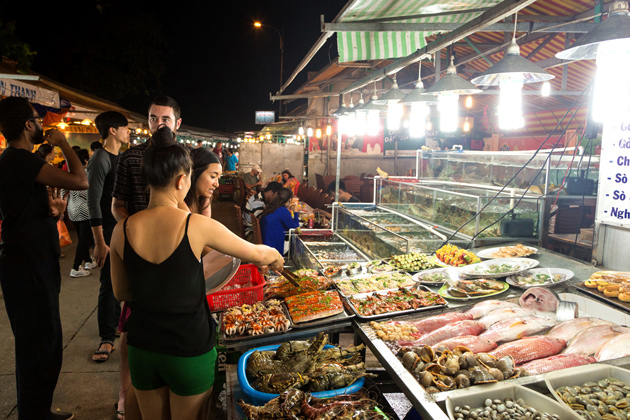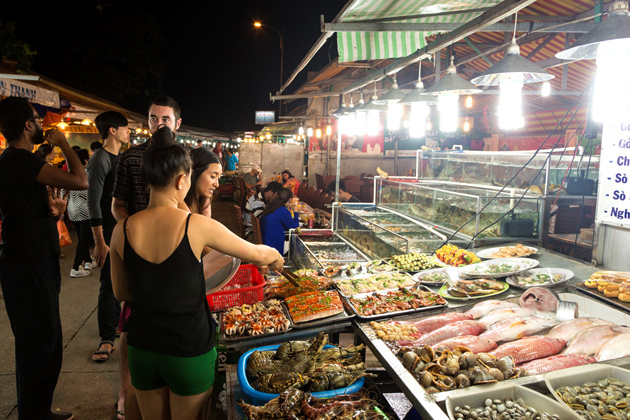 Fantastic Night Markets in Cambodia
Phnom Penh Night Market
Located in the Phsar Chas (Old Market) near the riverside, the night market in Phnom Penh is perpetually crowded with tourists as well as locals in search of a good bargain. The market consists of over 150 mini stalls selling a vast number of items from clothing and ornaments to furniture and – of course – souvenirs. Especially, the atmosphere of the market offers a much more comfortable retail experience than any other typical local market. Thanks to a festival vibe along with a wide range of Cambodian classic items to please the young and old, visitors and locals, the night market seems to be a promising venue to the capital's shopping scene. Every tourist can effortlessly find some unique souvenirs for their Phnom Penh excursion since most of the goods for sale are locally handmade with traditional methods rather than imported.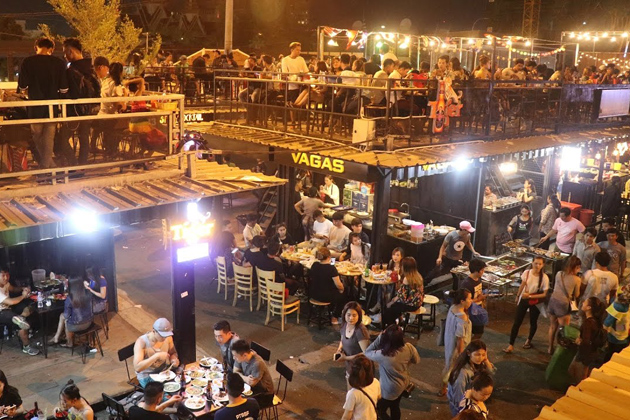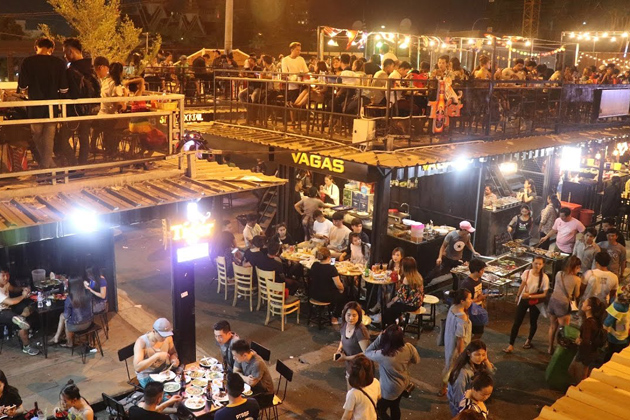 Angkor Night Market
Established in 2007 near to Sivatha Road, Angkor Night Market is a must – see once the sun flees to other latitudes. The market brings over 250 shops altogether as well as gives priority to the bamboo and wood stalls of the traditional Cambodian artisans. First, tourists should take an overlook to all kinds of goods sold in the stalls, they are silk, lacquer, wood and stone sculptures which are all made-by-hand by locals in the city. Then, if you are hungry, there are also several dining venues within the market, where you can enjoy live music performances, local and western delicacies, draft beer, cocktails, and smoothies at an affordable price.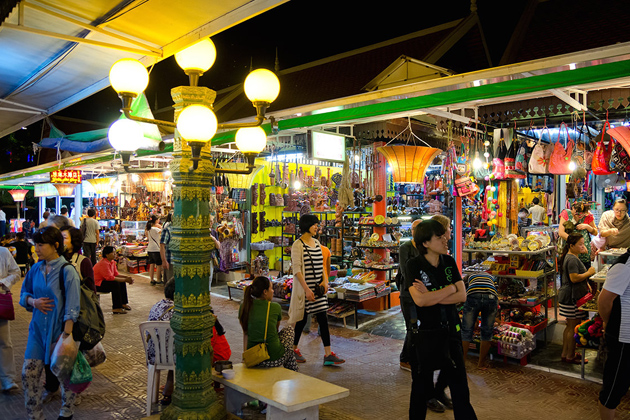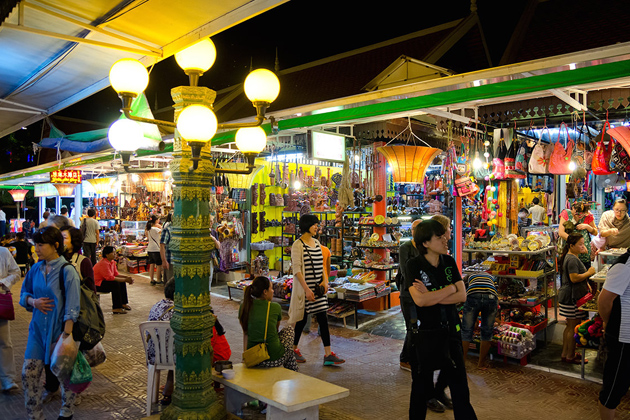 Angkor Handicraft Association
If you are addicted to seeing local artisans working on their products, then Angkor Handicraft Association is highly recommended for you. Tourists can witness Khmer classical crafting and even take part in some interesting workshops. In the fair-trade market set up 20 stalls showing and selling authentic hand-woven silk, silverware, stone and bronze statues, paintings and bags or lacquer. The association is somehow the best place for you to discover many unique culture and customs in Cambodia. And if you are confused about your family tour to Cambodia, don't bother, Angkor Handicraft Association also hosts 12 types of activities that are suitable for all ages, such as coconut carving, palm leaf weaving and flute making class.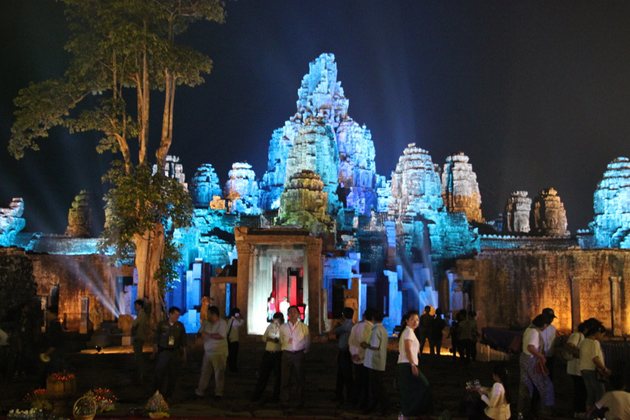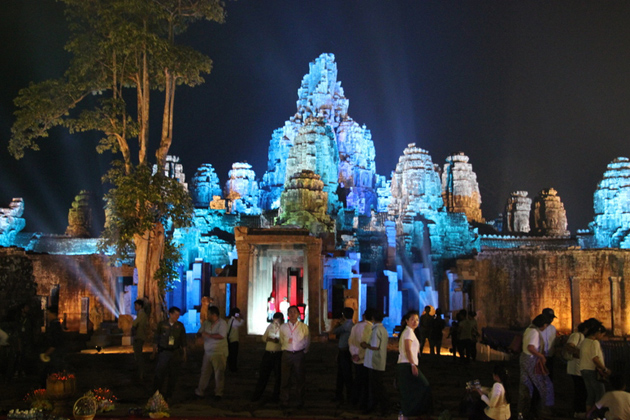 Made in Cambodia Market
Held especially every Saturday, Sunday, and Tuesday, Made in Cambodia Market offer a wide range of live performances, tasty local food, and Cambodia souvenirs by renowned local handicrafts-men. When you visit the market please notice that all goods sold here are a little bit pricier compared to most other markets in Siem Reap. However, due to the uniqueness and high quality of clothes, cosmetics, jewelry, paintings, and crafts, it is actually worth the splurge. Many traditional foods are served in the market for visitors including Sombai rice spirits, which is infused with cinnamon, mangoes, star anise, and red chilies.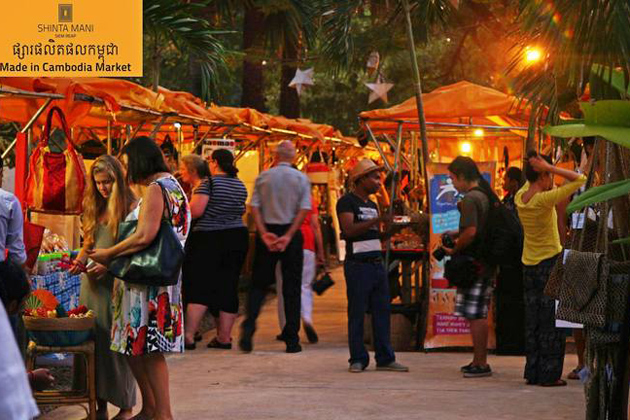 Noon Night Market
Noon Night Market features numerous fair-trade souvenirs and handicrafts, with 10% profits are for funding a local orphanage. Built-in Steung Thmey Village, the market offers a vast number of silk lamps and fans to help cope with stuffy heat in Khum Slorkram of Siem Reap. Plenty of Khmer delicacies such as fish amok, lok lak, and spring rolls are availably served at Bistro Khmer Restaurant. After exploring Noon Night Market, do not forget to buy some gifts to bring home as well as do a favor to many children in the orphanage.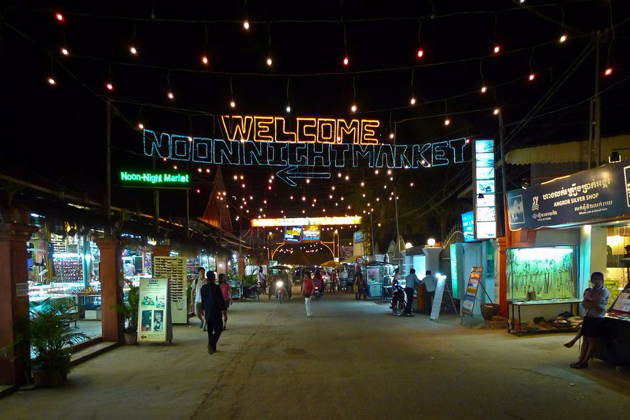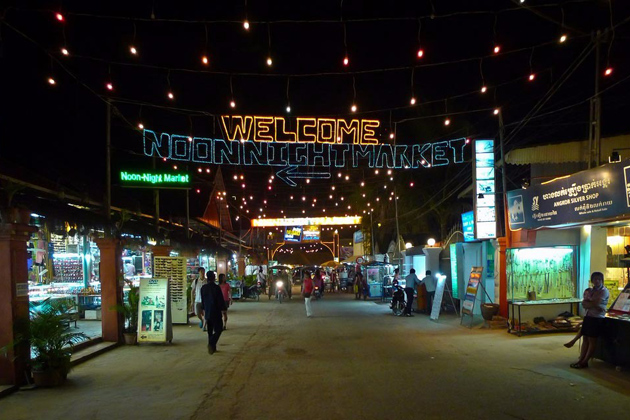 Amazing Night Markets in Laos
Luang Prabang Night Market
The Night Market, in the center of town, opens every evening from 5 o'clock until 9.30 although at first in 2002 it was supposed to last for a few weeks. A few H'mong and other craftsmen of the region proposed their products to tourists who are always looking for Laotian traditional gifts. Finally, this market never stopped, and it is increasing every day in size so as to have hundreds of stalls nowadays. The products range from chess games in ornamental stone to silk scarves, even portrayals of Buddha in all imaginable forms or local paintings. Contrary to their Thai, Chinese or Vietnamese neighbors, Laotians have no bargaining scene and have no idea of how to swindle customers, and it very rare to find someone who takes advantages of tourists by raising his prices astronomically. That's the specialty of Laos that makes all travelers want to come back twice again once they got there.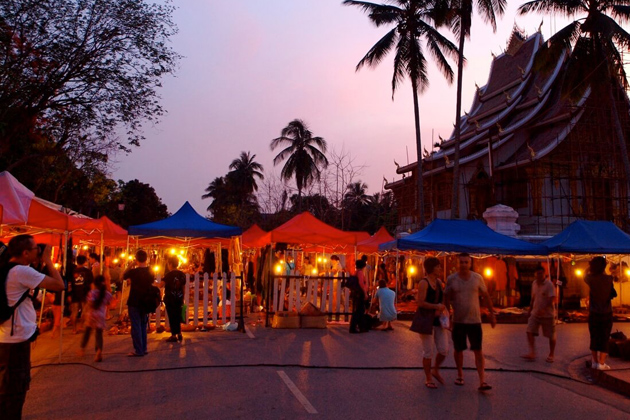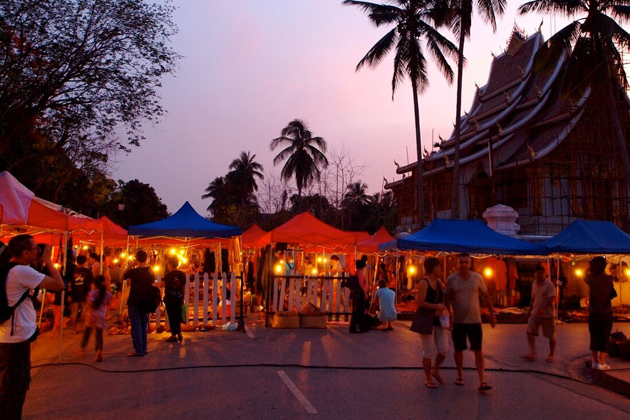 Vientiane Night Market
Referred to as the night bazaar, the Vientiane night market is the biggest and most popular tourist shopping spot in the whole city. The market makes the graceful place to grab a bargain, find a picturesque spot to eat or just soak up the chilled-out atmosphere. Unlike many markets in the region, shopping rarely has vendors or much congestion. Instead, Vientiane night market offers plenty of stalls that sell vast choices of electronics, clothes, accessories, artwork, and trinkets. Also, a number of bars and restaurants are overlooking the Night Market, they are all in low price for you to try traditional food of Laotians.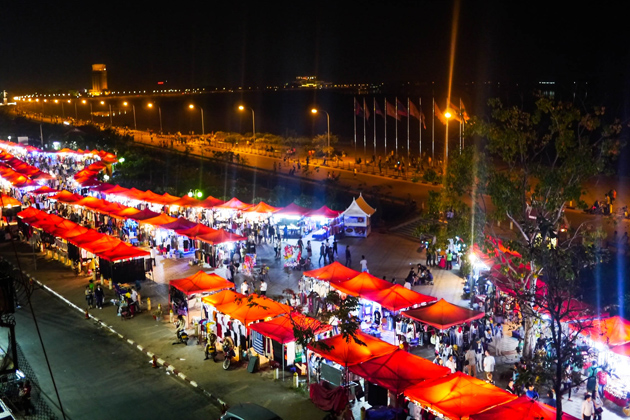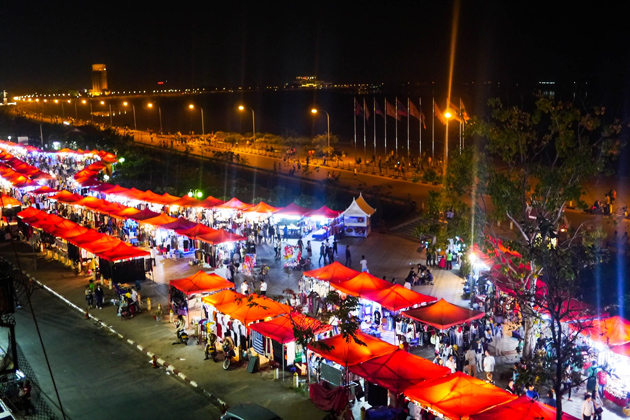 Above all, the quickest way to discover Indochina's cultures, as well as traditions and costumes, is doing a short trip to its local markets. This is the place that will show you how locals live, what's the specialties of a nation and, of course, most ideal one for you to pick up lots of lovely souvenirs when coming back your hometown.