Located in the Gulf of Thailand, Phu Quoc is the largest island in Vietnam including the island proper and more than 20 smaller islets. With around 150 kilometers of coastal line, the region is home to some Vietnam's best beaches where tourists can explore pure nature of long white and yellow sand or wild rocky beaches. Here are top 8 best beaches in Phu Quoc that you should pay at least one time to visit when you are having a get-away Vietnam vacation.
1. Long Beach (Bai Truong)
Long Beach is the longest beach in Phu Quoc Island stretching for about 20 kilometers in the south-west direction from Dinh Cau to Khoe Tau Ru. The beach possesses golden-yellow sand, turquoise blue water, and water-mild waves. Natural palm tree and coconut forest standing on the beach bring visitors a sense of peace, comfort, and relaxation. Long Beach includes some small islets connecting through rock cliff and fishing village. Thus, after a long day of discovering, tourists may come to a halt and enjoy seafood served by local people in small stalls along the beach. In the center of the beach, there is a vast majority of tourist complex such as hotels, resorts, bars, cafes, and restaurants, which can meet the demands of domestic or international visitors.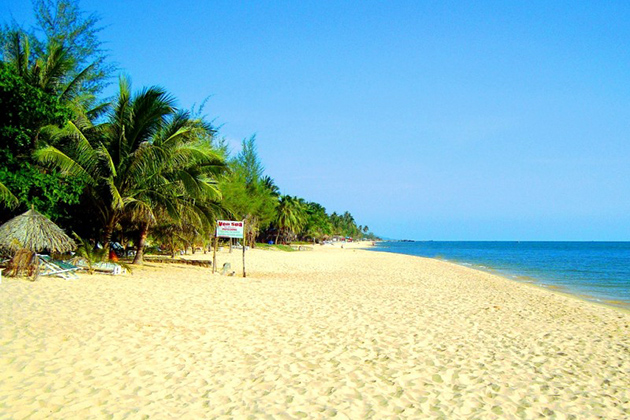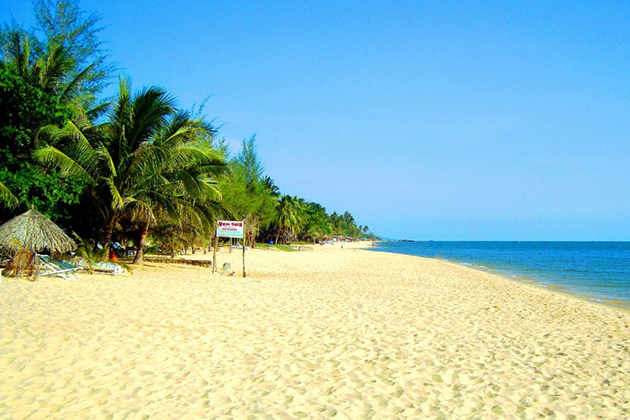 2. Vung Bau Beach (Bai Vung Dau)
Just south of Long Beach, Vung Bau is a wide crescent bay with white sand, tranquil blue water and tall grass growing. Until now, the beach can still keep its peace and privacy so many foreign visitors do not need to bring the swimming costume along. Instead, they choose to enjoy the day with good book or a simple picnic. Although the beach is quite pristine, it has recently been invested for some tourism services such as hotels, resorts and water activities like fishing or snorkeling. The price for a boat hiring may cost you $35-$50 per person and the average cost for a meal of barbeque or seafood buffet may cost $12 each.
3. Ong Lang Beach (Bai Ong Lang)
Located in the centre-west of the island, Ong Lang Beach is made up of glowing sand, black rocks and palm trees. With the development of tourism, the pretty beach is situated with mid to high-end resorts. Order a good cocktail and swim in the sea then lying on a lounger under the coconut balm would be incredibly perfect for those who want to get away from the busy city life and relax with the nature.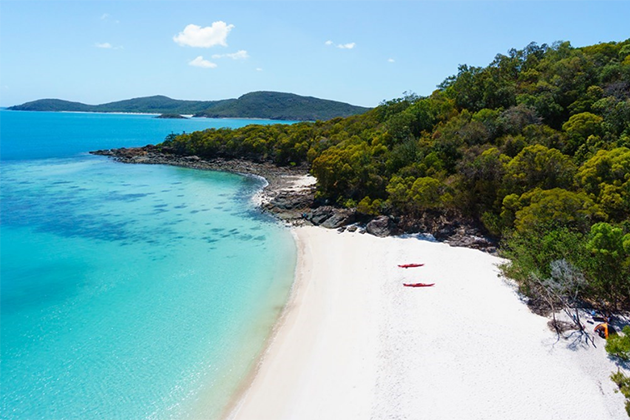 4. Sao Beach (Bai Sao)
25 kilometers from Duong Dong Town, Sao Beach is considered as the most beautiful beach of Phu Quoc Island with crescent white sand backed by tropical trees. The beach is named Sao because in the evening long time ago, there were a lot of starfish moving to the shore or under the water. In the summer, while almost beaches in Phu Quoc have heavy water waves, Sao Beach still keeps its tranquility with mild water waves. The best time to visit the beach is from June to October when the beach is calm and the wind is mild. Stunning shallow and spacious area are ideal and safe for kids or those who do not swim well.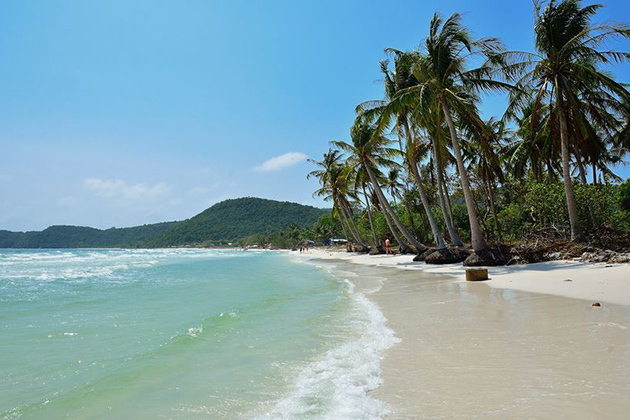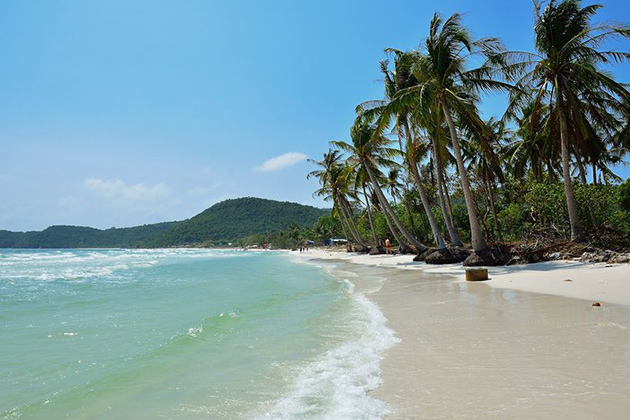 5. Dai Beach (Bai Dai)
Located in the west of the island, Dai Beach is an important factor of Phu Quoc tourism for its pristine beauty. Just about 1500 meters long, the beach is the heaven of golden-yellow sand, cool water and green coconut trees. The beach used to be voted as one of 13 most pristine and beautiful beaches in the world. From Dai Beach, tourists can visit Dinh Cau night market nearby to buy some local souvenirs or eat special porridge of the region. In comparison with other famous beaches of Vietnam, Dai Beach of Phu Quoc is not under the huge influence of tourism industry, which is the unique point of the beach and attracts domestic and foreign visitors.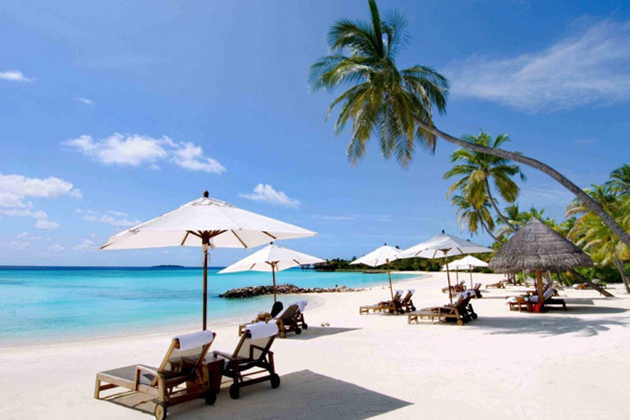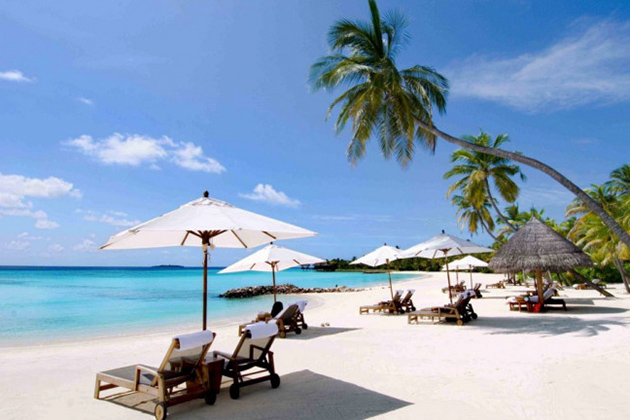 6. Ganh Dau Beach (Bai Ganh Dau)
Road to Ganh Dau may be a bit far from the centre area but it will definitely not disappoint tourists. Curving smoothly like a crescent for more than 500 meters, the beach is home of white sand and clear blue water. Besides spectacular scenery, Ganh Dau is famous for fresh and cheap seafood. Tourists can choose shrimp, squid, crab or fish and ask the chef to cook to fit with their taste.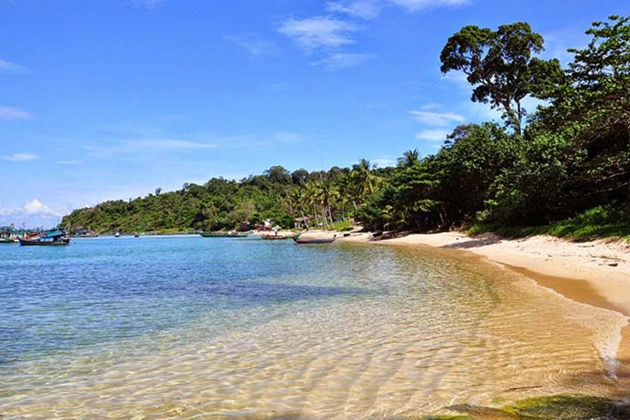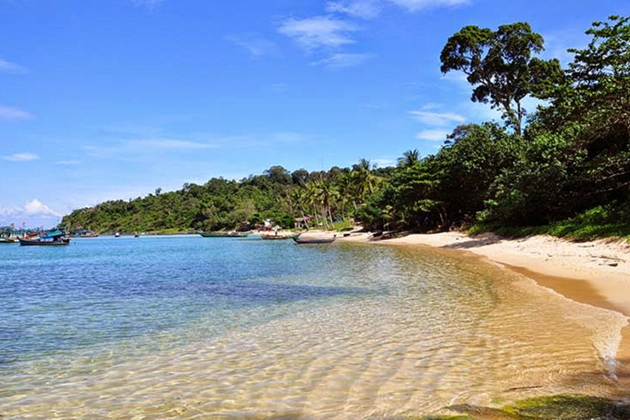 7. Vong Beach (Bai Vong)
Vong Beach is the first impression of Phu Quoc Island because it is where many passenger boats dock from the mainland. Located on the southeast side of the island, the beach is lined up with casuarinas trees and the water is thick with jelly fish. Although the beach is long and large, it is mostly used for port purposes. Nowadays, at least two more long concrete piers are being constructed here, which stretch far to the sea. The beach is anticipated to attract more tourists in the near future.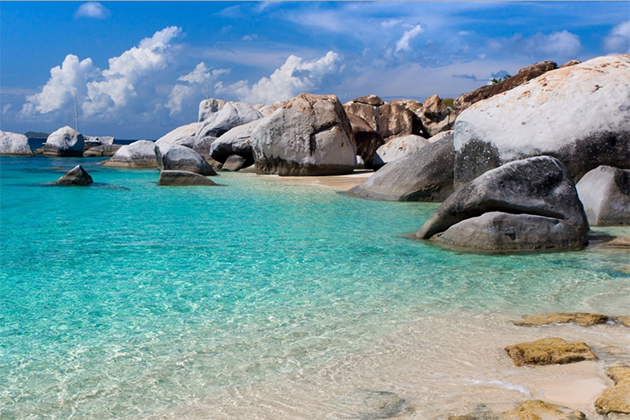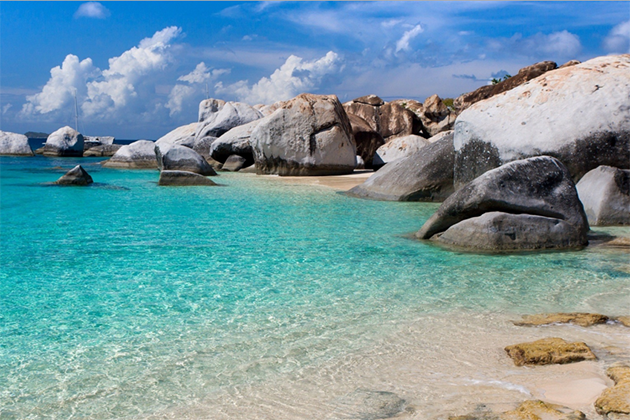 8. Thom Beach (Bai Thom)
Quiet, hot, sparsely populated and still, Thom Beach is an ideal destination for those who want to enjoy the peaceful air and stark beauty. Furthermore, the sound of midday cicadas and the good scent of cashew fruit are beguiling features of the region. Although the beach is hard to be reached and there are not so much things to do yet, the beach is worth exploring with several seafood restaurants, resorts and food shacks.
Anyone who once comes to Phu Quoc Island can never forget its pure beauty and local life. Visiting this beautiful island, you will have chance to experience and immerse yourself in the nature.