Vietnam classic tours overview
Vietnam classic tours have been intricately designed for those who want to access the best destinations and most iconic sites of the S-shaped country. Our professional guides are always willing to take you to explore the essence of Vietnam and offer the wonderful travel experience within your time in our country.
Whether you are a group of friends, family or single travelers, you will surely have your private tour guide, transportation, and accommodations… Cozy Vietnam Travel cares about your concerns and interests during your Vietnam vacation, understands you want value for your money as well as protection from any hassles during the trip. We deliver for you and will put your concept of Vietnam travel at ease against any price increases. After making your booking with us, simply confirm your booking with a full, per person deposit and you are protected against any land price increases due to currency fluctuations.
At Cozy Vietnam Travel, we are all avid adventurers, constantly seeking out the best ways for you to experience Indochina lands. This category is all about showcasing both Vietnam classic top sights and its magnificent hidden gems; about the plethora of different types of abundant knowledge and tremendous experience in your journey around Vietnam; and about giving you the very best vacation. Cozy Vietnam Travel and the team look forward to welcoming you to Vietnam soon! Browse our ready-made classic itineraries below or contact us to tailor-make your own classic tours in Vietnam.
Vietnam classic tours - The Best Choice for your Vietnam Vacations
With over 3000 meters of the coast, Vietnam will make you surprise with the natural landscapes, customs and cultures changing from north to the south. The friendliness of local people here also makes you feel like home. Travel to Vietnam, you will feel absolutely relax and comfortable. Vietnam classic tour packages cover all the landmarks of Vietnam; stunning natural beauty, daily life Vietnam, the super friendly people, the diversified culture, and the long-standing history. Traveling throughout the country from the North to the South or vice versa is a great chance to explore the colonial elegance of Hanoi – our poetic capital, wonder of the world Halong Bay, picturesque terrace rice field in Sapa, the historic Old Royal City in Hue, charming Hoi An town, stunning beaches in Nha Trang, and Phu Quoc, Mekong delta area, and finally, the dynamic Ho Chi Minh City…
Vietnam classic tours recommendation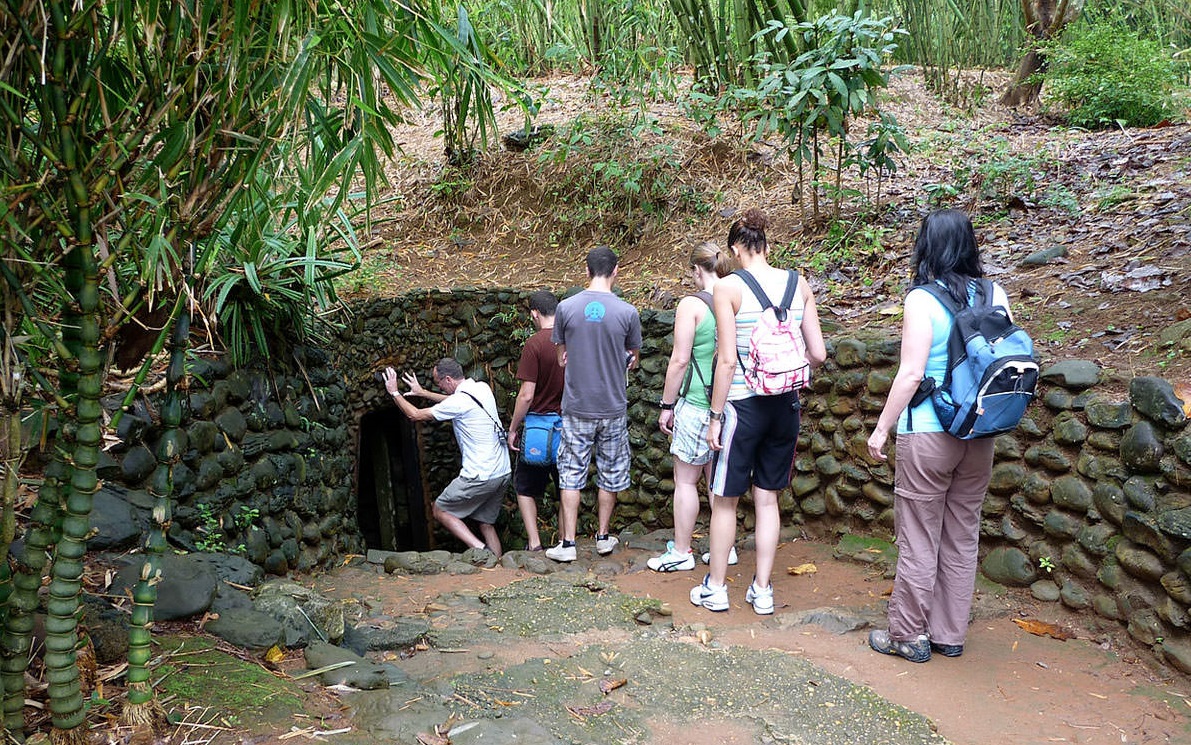 Ho Chi Minh City Cu Chi Tunnels Mekong Delta Hoi A n Hanoi Halong Bay Hanoi
The most popular destinations of Vietnam Classic Tours
Hanoi Old Quarter
Filled with a warren of shops, the Old Quarter is one of the highlights for most travelers to Vietnam. Around Hoan Kiem Lake, it is busy and still vibrant 600 years after its inception. You can stop at a small shop or roam around the 36 streets to hunt for unique souvenirs and enjoy the traditional water puppet show. Another amazing experience in Hanoi Old Quarter is tasting mouth-watering street foods or just sipping a coffee or a cup of beer in a small corner to see Hanoi crazy traffic.a store in hanoi old quarter should not be missed in vietnam classic tours.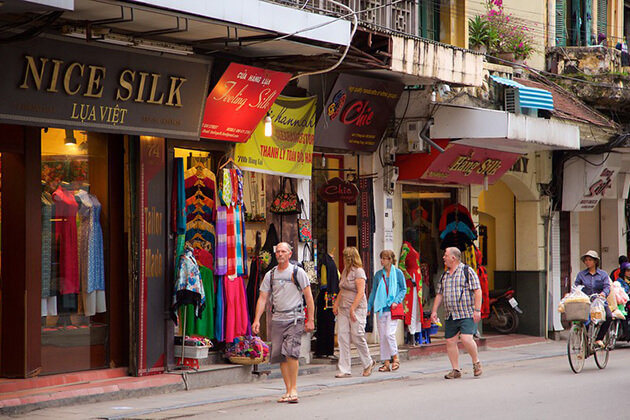 Join a Halong Bay Overnight Cruise
As one of the New Seven Wonders of the World, Halong Bay enchants tourists with a breathtaking view of limestone karst islets jutting dramatically from the sea that no pictures can adequately depict. Explore the bay by taking a trip on a boat for 2 days and 1 night. Cruise across the sea and enjoy the sunset after visiting a fishing village and doing some activities in the daytime. This really quiet and peaceful paradise deserves your time!halong bay is the essential destination in classic holidays in vietnam.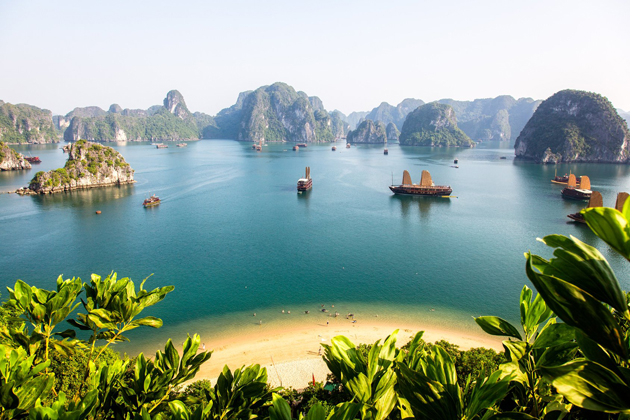 Ninh Binh
Though Ninh Binh is not as famous, touristy as Hoi An, Sapa or Nha Trang, splendid Trang An Grottoes, spectacular sightseeing Tam Coc and preserving Cuc Phuong National Park help the town not be outperformed by those places of attractions. Ninh Binh may be a wise choice for family vacations in Vietnam to take out the most pleasant of enjoying the scenic view of limestone caves, natural stone sculptures while taking a leisurely hand-rowed boat trip down the opaque turquoise river.
On top of that, the largest Buddhist temple in Vietnam – Bai Dinh Temple where worships the God of Nature, God of Mountain and the Transcendent is located 15 km from the Ninh Binh city center. Admiring the temple's splendor or coming across the mysterious, secluded atmosphere is also an interesting experience that Ninh Binh can deliver.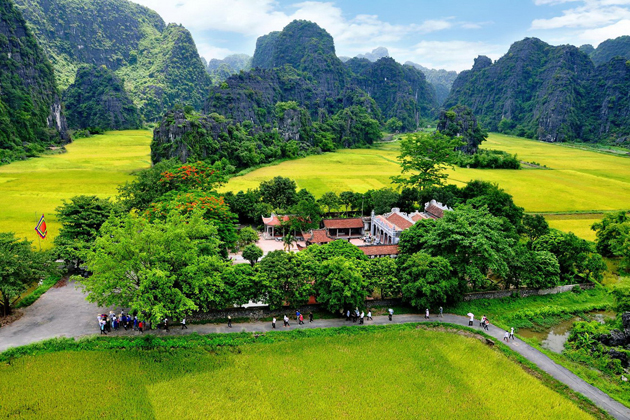 Sapa Trekking Tours
Sapa is a quiet town that is surrounded by spectacular mountains, poetic rice terraces and a diversity of hill tribes in the remote northwest of Vietnam. It frequently used as a base for trekking in the Hoang Lien Son Mountains and touring rice paddies and local villages. Visit Sapa you not only can trek to explore the natural beauty but also can experience the food, customs and way of life among the local tribes.Vietnam classic tour brings you to rice terraces in sapa.
Explore Historic Monuments in Hue
The old capital of Vietnam has plenty of wonderful places to visit. The first place is Imperial City with many gates of the fortress, including the famous forbidden Gate of the Noon (Ngo Mon) and many temples and worship places (Trieu Mieu, Hung Mieu, Thai Mieu) inside the City. The second must-see is the Purple Forbidden City which is the home to many emperors, queens and royal families of Nguyen Dynasty in the 19th century. Another notable place is the complex of the tomb of Nguyen emperors, including Gia Long Tomb, Tu Duc Tomb, Minh Mang Tomb, Dong Khanh Tomb, Khai Dinh Tomb. Nevertheless, like the One-pillar pagoda in Hanoi, Thien Mu pagoda is a highlight of Hue. All historic monuments make Hue become a land where you find way back to old times.a palace in hue imperial citadel for classic tours in vietnam.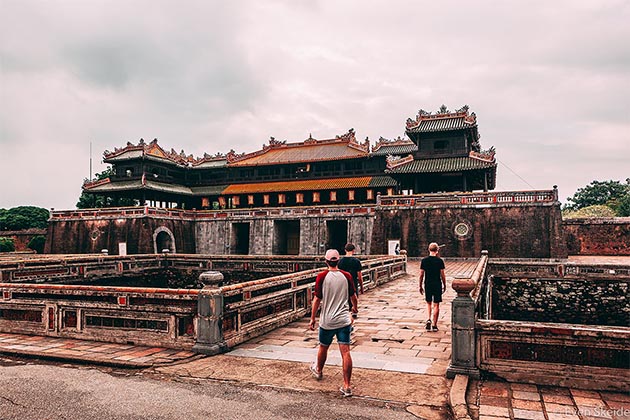 Join in a Cooking Class in Hoi An
Known as a great area for tailor-made clothes, Hoi An is definitely one of the best cities in the country. The expat population makes the town a place full of various restaurants.join in a cooking class in hoi an classic tours to vietnam. However, the town is more than that. The best thing about this town is the tastiest cuisine of the country, such as fried wontons, cau lao (a type of thick noodle), and white rose shrimp dumplings. Taking a cooking class is ranked as the premier thing to do in this city. Just go for it.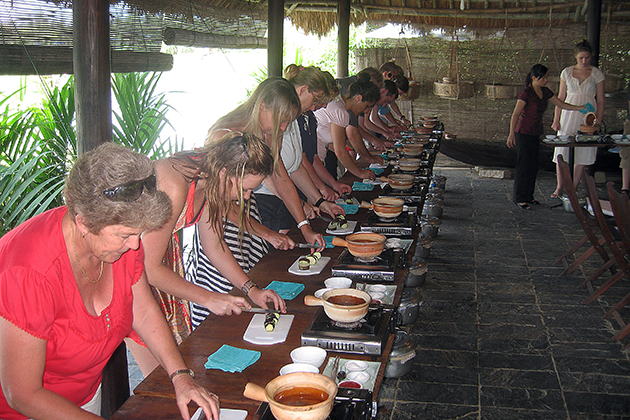 Saigon Vespa Tours & Cu Chi Tunnels
Ho Chi Minh City formerly known as Saigon is one of the most important commercial and tourist centers in Vietnam. Exploring the city from the back seat of a Vespa is an exhilarating way to get a feel for a city with nearly 5 million motorbikes. By that way, you can explore many famous places such as Ho Chi Minh City Notre-Dame, War Remnant Museum, Saigon Opera House, Cho Lon, etc.vespa tours in saigon vietnam classic holidays. Another reason that attracts Westerners travel to Vietnam is to experience and view the remains of the war. The Cu Chi Tunnels are considered to be the most notable and best war-related sites. Just outside Ho Chi Minh City, these tunnels are still tangible with a history of over 40 years. With a length of more than 120 kilometers, these tunnels were first built for fighting the French in 1948. Now visitors can get a glimpse of the underground life led by Viet Cong soldiers.cu chi tunnels in ho chi minh city classic vacation in vietnam.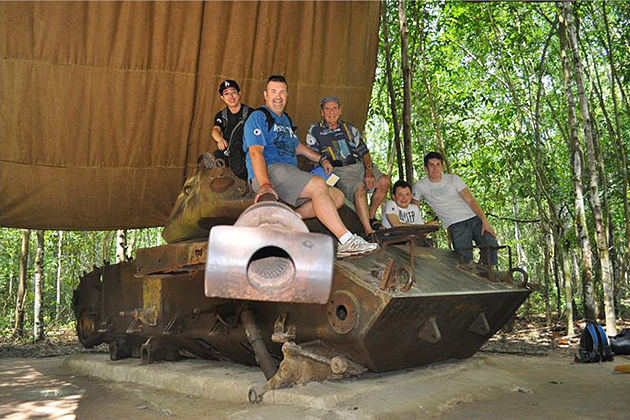 Mekong Delta Boat trip
Floating markets and a boat tour are the most popular things to do when traveling to the Vietnam part of the Mekong Delta. Wake up early and visit the floating market at Cai Rang. It has retained its traditional way of doing business and you will be able to see standing boat rowers there. Taking a boat trip to visit the islets and interesting orchards will give you an amazing feeling. 2-3 days is the ideal time to explore this area. Don't forget to taste the delicious Canh Chua.boat tour in mekong delta vietnam classic tours.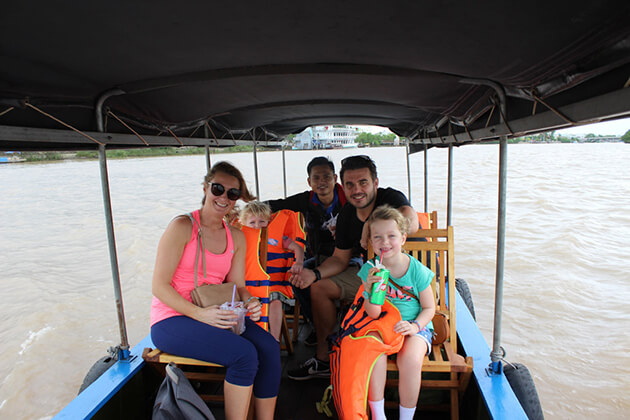 Unwind on the Beach of Phu Quoc Island
Phu Quoc is the biggest island in Vietnam with stunning sandy beaches standing out from many of the beaches in Vietnam. Most Westerners tend to visit the island for its quieter environment and quality beaches. It entices real beach lovers from all over the world with white sands and tropical waters. As well as snorkeling, scuba diving, and fishing, you can even enjoy squid fishing! What more can you ask for? Visiting Duong Dong Market in the morning gives you a feel for the charm of the local culture and its history.relax on the beach of Phu Quoc island during vietnam classic vacation. The island is easy to access by plane from Ho Chi Minh City to Duong Dong Airport on the island. It is big enough to enable you to unwind on the beach for 2 – 3 days.